Stoke well beaten -- by the man in the middle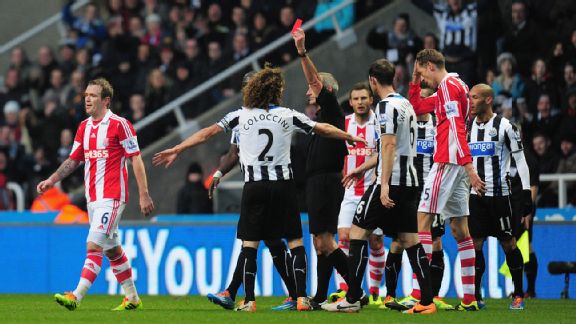 Stu Forster/Getty ImagesGlenn Whelan's second yellow was the first of two sendings-off for Stoke City at Newcastle.
The pantomime season, which is so popular at this time of year in England, extended itself to St. James' Park as referee Martin Atkinson took well to the role of festive villain (oh yes, he did) as his highly dubious decision-making allowed an otherwise anonymous Newcastle to overcome Stoke City 5-1.

- Report: Newcastle 5-1 Stoke City
- Tyler: Boxing Day talking points

He is the main talking point from a game that saw some of the toughest decisions I've ever had to accept -- and that includes standing on the sidelines of a good number of Sunday league games. That Stoke were putting in their best away performance to date and were more than in control of the game at the time of the first dismissal only rubs salt into the wounds.

Glenn Whelan will feel particularly hard done by following each of his cautions, the first of which seemed to come around after an altercation off the ball where the Irishman was the only one booked despite the significant involvement of two other players. While his next foul was a correct decision, the one to issue a second caution instead of having a quiet word was not. Sadly, the Newcastle players' reaction to the tackle sealed the deal.

The questionable decision was the red shown to Marc Wilson, presumably for denying a goal-scoring opportunity despite the ball being overran and two Stoke players tidying up the play in behind. While some form of justice was metered out with Thomas Sorensen's save, it was only a matter of minutes until the next poor decision would turn events even further into Newcastle's favour, as a most blatant handball was allowed to go unpunished. Having lost two men, Steven N'Zonzi showed great bravery in attacking the final third, flicking a ball out to his left only to have it intentionally blocked by the defender's hand right in front of the referee, who did absolutely nothing but turn around and watch Newcastle go up the other end and score. That the ball was out of play in the run-up to Newcastle's second goal served only to compound the dismay at the decisions going against the side.

There's little worse than a defeat, especially against the run of play, but to lose against the run of play aided unfairly by a plethora of game-changing decisions going in favour of the opposition is absolutely gut-wrenching. I expect a mistake or two in every game; referees are only human after all, and to an extent the old adage of them evening themselves out over a season is often proved right. What I don't expect, though, is for one man's performance to completely destroy a team's chances -- a team that was very much in control up until his misguided interventions. It's not just Boxing Day's game that has been ruined as Stoke now face another difficult trip, away to Tottenham, with a side missing two more players.

Adding to the indignity is that Stoke will have very little faith in the appeal process for Wilson's red, potentially risking a longer ban for a frivolous application. Whelan's dismissal, of course, can't be appealed as it was two yellows. The fact that neither yellow was justified apparently goes by the wayside; such are the questionably insufficient laws of the governing body. The manager, too, will need to wait for the referee's report to learn his own fate -- no doubt he will be less than hopeful on that with having had run-ins with the official in question in the past, most notably for his seven minutes of injury time at Old Trafford when he was in charge at Manchester City. Undoubtedly, Atkinson will be in no hurry to do any favours for a man who criticised him so publicly after that game, let alone what the Stoke manager will come out with after this latest performance.

The Stoke players, though, can hold their heads high. They did absolutely nothing wrong, bar perhaps a poor challenge from Erik Pieters for the second penalty of the game. It really was their best away performance under Hughes and one they should take great heart from, however, like the fans, they will naturally feel little other than disappointment and devastation right now.

I'd like to think that the referee in question will be subjected to one of Mike Riley's infamous phone calls, but any ticking off or temporary demotion will do nothing for Stoke when the damage has already been done for this and subsequent games. All the manager and players can do is regroup and try their best to channel their obvious anger and dismay into their performance on Sunday at White Hart Lane where they will be hoping for a more capable performance from the man in the middle.