Crouch the hero as Stoke slay the Villains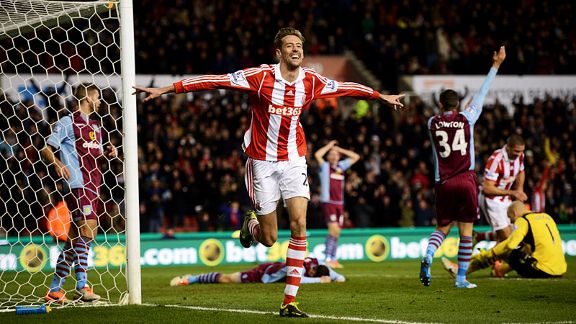 GettyImagesPeter Crouch celebrates after putting Stoke 2-1 in front at home to Aston Villa.
Peter Crouch delivered a timely Christmas gift to Stoke manager Mark Hughes by scoring the winner in the Potters' 2-1 victory against Aston Villa on Saturday, taking his side up to tenth in the table.

It's fair to say that Hughes' main target as Stoke manager was to transform his side into a regular top ten team in the Premier League so to be sat there at Christmas is an encouraging sign of the progress he is making.

Whilst Aston Villa are not too far from the Potteries, they have never been considered a local rival, though there was a derby feel throughout the game that kept the rookie referee on his toes. Erik Pieters and Marc Albrighton decided to take centre stage by roughing up each other all afternoon, in fact their on-going battle served as the only entertainment in a first half otherwise forgotten.

The second half, though, was a different story as the game stepped up a gear and whilst I could comment on almost all of the men in red and white, let's concentrate on three A's: Marko Arnautovic, Charlie Adam and Oussama Assaidi.

Marko Arnautovic -- Hughes' temperamental Austrian has struggled lately so it was good to see him given the chance to shine in the space behind Crouch, as cover for the absent Stephen Ireland. Unfortunately, like many of his other games this season, Arnautovic just didn't get going. His habit of making things hard for himself and choosing the wrong option is possession is frustrating, though not as frustrating as his reluctance to make amends once he has lost the ball. Effort and commitment aren't a bonus; they're the bare minimum expected.

Fans will forgive a player for losing the ball if they make an attempt to regain possession, what they don't take kindly to his arm flailing and sulking on the pitch, regardless of how many flicks and tricks they might have in their locker. Things aren't really clicking for him at the moment and whilst some of that can be put down to the fact there aren't many players on his wavelength, it's up to him to adapt and work hard to create opportunities for his side. Hughes was absolutely right to substitute him at half-time and hopefully it will serve as a lesson to Arnautovic about what is expected of him.

Charlie Adam - I've criticised Adam plenty this season, all of which was deserved in my opinion. On Saturday though, he looked a different player and put Arnautovic to shame with his own effort and application. The main criticism has been his lack of positional discipline in the No.10 role, leaving Crouch isolated, but he's clearly been watching Ireland's movement as in this game he barely left his side and read the target man's flick-ons brilliantly. His goal was well taken and whilst he has little pace, it's not an issue if he is in the right areas, as he was in this game; which he showed as he used his body well to shield the ball to gain half a yard or win a free kick.

Oussama Assaidi - Another player it was good to see given a start so he could redeem himself following a poor game in the League Cup against Manchester United. The midfielder has been criticised in the past for not getting at his defender enough, instead electing to go backwards to maintain possession, but in this game he was every inch the flying winger fans love. It would seem that he has certainly benefitted from an extended run in the team, which was always going to be the case for a player who has played a small part for his parent club Liverpool, and indeed his early days at Stoke. He looked more confident against Villa, dare I say more like the player fans were salivating over on his YouTube videos as he ran relentlessly at his markers switching from one foot to the other. Let's hope this game proves to be a turning point for Assaidi as far as his confidence goes; it's up to the player now to prove that's the case and that he deserves to keep his place.

Tenth at Christmas is some achievement for Hughes and the players and sets the side up well for a difficult couple of trips over the festive period. I'm not sure what to expect points wise from visits to Newcastle and Tottenham, but if the side can continue their unbeaten run through to the New Year then it will have been a great 2013 for Hughes at Stoke.