Sloppy Stoke their own worst enemy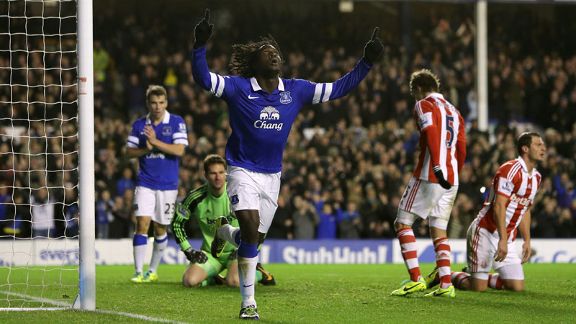 PA PhotosRomelu Lukaku putting the icing on the cake for Everton against Stoke.
Stoke were their own worst enemies Saturday, as a failure to do the basics saw them lose 4-0 to a rampant Everton side who will be disappointed they didn't double their tally.

When Mark Hughes arrived at Stoke, the chance of the Potters appearing first on match of the day increased tenfold, though being on the end of a hammering wasn't quite what fans had in mind. Four-nil is an embarrassing scoreline but the Potters will be thankful to Man of the Match Asmir Begovic, who kept the score at an embarrassing level as opposed to utterly shameful.

The talking points:

Doing the simple things -- Stoke look so much better in possession but Saturday they looked bereft of any passion, determination and effort on the back foot. I don't think for a second the improved play has come at the cost of those basic attributes, I just think the players' attitude on the day was very poor. An inability to track runners and not closing down on the edge of the area cost the side goals again; there's simply no excuse.

I appreciate that the shape is more fluid than the group are perhaps used to, but these are basic principles to execute and if they are ignored then losses of this magnitude will keep happening.

Marc Muniesa -- I half-expected Muniesa to come in to the back line but didn't expect him to line up alongside Ryan Shawcross in the middle against Romelu Lukaku. I was surprised at how well he did to be honest -- Lukaku got the better of him on more than a few occasions, but he's done so to players a lot more experienced than the young Spaniard. He made a number of good tackles but the sight of him lunging in for challenges in the penalty area was nerve-wracking and a little naïve from a player who was spared further blushes by the honesty of his compatriot Gerard Deulofeu. It was every inch the baptism of fire expected but he handled the pressure well, even if he gave the Stoke fans kittens with some of his decision making. I'm not convinced he's the answer to Stoke's immediate need in that area, but he's certainly a promising talent to nurture.

A tale of two sides -- The game was won and lost down the sides. Stoke's left coped admirably for the most part with Erik Pieters and Oussama Assaidi linking well in defence and attack with a combined pass success of 89 percent and making 12 tackles. But he opposite side were slaughtered throughout, managing only a 62 percent pass success rate and three tackles. Geoff Cameron is not a right back and again was found wanting positionally; getting sucked into the middle leaving space down the line with only an entirely ineffective Jon Walters for company. Walters may as well not been there, such was his lack of influence anywhere on the pitch.

The opening goal on 44 minutes came down the right side with Walters well behind play. When he caught up he simply stopped and watched the impressive Deulofeu run past him to collect a one-two and score. The often-peddled myth of the work he does off the ball is exactly that for the most part -- the only conclusion I can come to as to why he continues to be picked is that there is simply no other alternative for Hughes. That whole side needs a makeover of drastic proportions in January; I'd argue finding a natural right back and right inside forward takes precedent over a leading striker such is the problem in that area. That would see a much more balanced side and free up Cameron to take up a more natural central midfield position. Simply put -- just get Walters off the pitch.

I'm not sure any Stoke fan put their mortgage on a win given Everton are another in-form team who haven't lost at home in 2013. What the fans did expect was their players to show a bit of heart and desire for 90 minutes. It doesn't matter who the manager is, that's the absolute bare minimum.

Stoke's next game, much like their last at the Britannia, now takes on even more unnecessary significance with the visit of Cardiff City Wednesday. Hughes needs to get the players in, bang their heads together and demand a response because there will be 25,000 fans who will want to see proof that the players deserve to wear their red and white shirt.