Ton up Sparky gives Stoke some breathing space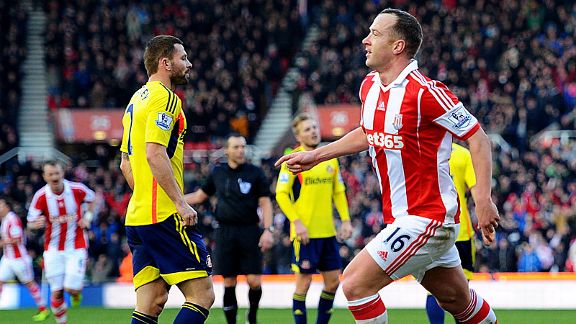 GettyImagesCharlie Adam celebrates after giving Stoke the lead against Sunderland.
Mark Hughes was finally able to claim his 100th win as a Premier League manager with his Stoke side picking up their first victory in nine games by beating ten-man Sunderland 2-0 at the Britannia Stadium.

- Randall: Friend is Sunderland's foe

The numerical advantage played little part in truth; Stoke were ahead when the red card was produced and already looked in control of a game that for many had become a must win.

The talking points are as follows:

Team Selection/Set-up - Losing Stephen Ireland, the man central to so many of the side's attacking impetus over the past few weeks, was a big blow and it was difficult to see where the attacks would come from other than down Marko Arnautovic's side, putting pressure on the Austrian to carry the attacking threat once more. That link-up role has been key to the reversal of the side's attacking fortunes and to start Charlie Adam there was a risky move given he had previously failed to grasp the requirements of that role, or indeed shine in it.

The balance I have been writing about in previous weeks edged back to more of a possession based game with the men in red and white seeing the majority of the play and the previously discussed pass combination statistic was firmly back in Stoke's favour. In previous weeks they had only had one or two of the top 18 passing combinations, but a more patient and assured approach saw them register eight in this game.

Geoff Cameron - I find myself writing about Cameron a lot and having had a couple of difficult away games at right-back he found himself playing a much more attacking role against Sunderland -- in fact the statistics show he spent more time up field than Jon Walters. His assured manner on the ball and ability to play with both feet caused Sunderland headaches all afternoon and whilst his delivery is much improved, his teammates didn't help much by not getting into the area. The main culprit in that sense was Arnautovic, who needs to be busting a gut to get to the far post whenever a move develops down the opposite flank. Cameron was rightly named Man of the Match, which in itself is an achievement given his extensive travels for Internationals in the days previous.

Glen Whelan - Most fans were happy when Whelan got his start against Southampton, he offered good protection to the side before having to go off with a hamstring injury. Against Sunderland he was given a second chance and took it with both hands, barely putting a foot wrong all game. He made more passes than any of his teammates (including two key ones) and boasted a 100 percent accuracy. The defensive side of his game was also crucial, with Steven N'Zonzi being given more licence to join the attack, Whelan had to sit in front of the back four and sniff out any danger which he did admirably. His willingness to track runners at full tilt and close down the opposition is something some of his midfield colleagues should take note of; in this form he has more than earned the right to start the next game.

Charlie Adam - I wrote in the week that Hughes was struggling to find a place for his maverick Scotsman but an injury to Ireland force his hand somewhat to bring Adam back into the fold. He opted to give him an almost free role, staying up field when the team were defending but drifting when on the front foot. This caused a few problems early on as there was no-one running beyond Peter Crouch, with Adam finding himself the one who was dropping deep to start the moves off leaving a gaping chasm between midfield and attack. His goal came as he remedied that, timing his run to perfection after good hold up play by N'Zonzi, finishing calmly to score his second in as many games.

All in all though he can be happy with his efforts, though I expect Hughes will be none the wiser on how to use him from the start once Ireland recovers from his knock.

It was a big result for Stoke and while the red card was a little harsh on the opposition, Robert Huth may have had a wry smile having suffered a similar fate during a previous encounter when David Meyler writhed about on the floor following minimal contact to get the German sent off. They say these things even themselves out and they certainly did in that respect, and the side can now look forward to a visit to Goodison Park safe in the knowledge they have a bit more breathing space in the league.