Pulis to come back for his favourites?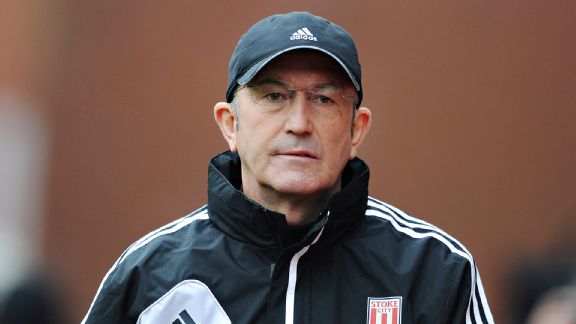 Chris Brunskill/Getty ImagesFormer Stoke boss Tony Pulis is tasked with saving Crystal Palace from relegation.
With confirmation that Tony Pulis is taking charge of league basement boys Crystal Palace, the concept of Stoke's former manager competing with his old side on and off the pitch is now very much a reality.

- Report: Hughes frustrated over Agudelo move

It's an unenviable task he has at Palace, and if reports are to be believed, his agreement to take charge was based on a number of conditions, one of which being a healthy transfer budget for what will be the only chance he has to recruit new players this season. As Stoke fans can attest, Pulis is an old-school manager, one who puts in weeks and months of background work into potential signings, putting their "DNA" under the microscope to make sure they are ready for a fight.

Much as he'll have an idea about who in his current group is up for a scrap, he also will have a pretty good idea with whom he wants to supplant the others. Where better for him to start than at his previous club Stoke, who want to move some of their own fringe players in order to bring in some more in the image of their current gaffer Mark Hughes.

Many of Pulis' favourites have been phased out of Stoke's current first team, ones he put so much faith in during his time at the club. These are players whose report cards he already has, ones he knows will do exactly as they are told and whose relationship with him are built on an earned and mutual trust. That character is key to the quick turnaround of fortunes he needs, and while those players are not ones who would be described as technically proficient, for this particular challenge it will be more about attitude than ability, which just happens to be Pulis' forte.

I've had a think of who he could come calling for, based on their anticipated availability and how key they were during his tenure at Stoke. I think he will find a ready-made spine available to purchase for his new side.

Thomas Sorensen -- Pulis will build from the back, and where else to start than with Sorensen, who has been reluctantly kicking his heels on the bench as he ponders his future in the game. He is an experienced head in a vital position who will want to extend his long and illustrious career in the top flight, and the chance to do that with a familiar face could be a significant factor.

Marc Wilson -- Once described by Pulis as "the best left back in the country," Wilson will be very much on his radar. He was a player he recruited at considerable cost, though one who has failed to make an impact in any of the positions he has been shoe-horned into since his arrival from Portsmouth. Pulis will know he can trust him and will be buoyed at the prospect of his versatility across the defence. As such, he will see Wilson as the perfect utility man.

Glenn Whelan -- Pulis came to put a lot of stock in Whelan after a slow start at Stoke, describing him in his final months as "the glue that holds the team together." Whelan himself is a dependable player, one who rarely lets the side down, but nonetheless finds himself on the fringes of Hughes' revolution. After Ireland's draw against Poland, he told the media that the players are more than aware that the management team will be picking those players in form and turning out for their clubs, so a move to London could suit both parties.

Jonathan Walters -- The Golden Child. Walters will be Pulis' first port of call, having put more faith in him than any other during his time at Stoke. Having completed 100 games for the Potters and with the transfer window looming, Walters no doubt will be fearing for his place in 2014 under a manager wanting to bring in players better-suited to his new ways of working. Being reunited with Pulis again would benefit both parties, and while he has been an almost ever-present under Hughes, I've no doubt he would be allowed to leave if the opportunity arose.

Although Pulis will be hopeful of bringing in players from his old side in the new year, he'll be expecting another favour from them as early as the weekend when Stoke face Sunderland who, thanks to a mini-revival, are pulling away from the Eagles at the foot of the table. This fan hopes that Stoke will oblige by taking a much-needed three points to start a revival of their own, one that will be enough to keep them away from the business end of the league until reinforcements can be brought in.