It's back to the Britannia for the mighty Potters as we welcome our friends from Wales (no, not them) Swansea.

The visit of Swansea sees us face a new prospect, one we've not had for a few weeks: hope. Our last couple of games have been, for the most part, a "backs to the wall" effort where we have played big teams on the break. But given our less illustrious opponents, many are expecting us to take the game to them.

- Blog: Swans seek to avoid set-piece sabotage

This game for me is vital, not just because it's a home game from which we should be taking three points, but also because of how we line up; this, I believe, will give us huge insight into how Pulis is going to set his stall out for the remainder of the season.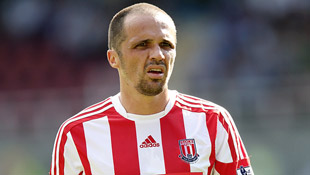 GettyImages / David Rogers/Getty ImagesMatthew Etherington will be key for Stoke vs. Swansea.


As I've said in previous articles, we seem to have found a shape and approach that is much better suited to the personnel Pulis has available. Some may point out that one man up front and a five-man midfield could be viewed as negative, thousands of previously frustrated Stoke fans have enjoyed us seeing more of the ball and possess an attacking threat. As such, this formation is one I think we absolutely need to see from week to week, though maybe with minor tweaks in as much as the fullbacks will be given a bit more licence when we're at the Brittania.

Though we enter this fixture on a poor run of form -- four points from five games this season -- I'm confident we can win this game and win it well. Following a decent start to his reign, Laudrup and his team are now experiencing their own dip in form and when that happens, the Britannia is not high on the list of where you want your next game to be.

In terms of availability, I believe we have a full squad to choose from and with Adam recovering from the illness that affected him last week expect to see him retain his position in the middle alongside Whelan and N'Zonzi.

I thought Matty Etherington looked a little better last week and as Pulis says, he offers us balance on the left that we're not able to achieve in his absence. My personal preference would be to see him come in on the left of midfield with Michael Kightly moving over to his favoured side, this would of course mean dropping Jon Walters which is extremely unlikely to happen, though I also said Pulis would never change shape so we can but dream!

In terms of the expected team, I think we will see exactly the same side as at Chelsea though I expect to see Geoff Cameron overlapping more than he did at Chelsea, getting some good crosses into Peter Crouch and the winger at the far stick.

Team Prediction


4-5-1

Begovic

Cameron – Shawcross – Huth – Wilson

Walters – N'Zonzi – Adam – Whelan – Kightly

Crouch


Score Prediction: A comfortable win by two clear goals, either 2-0 or 3-1. I think we have played brilliantly with little to show for it as a 4-5-1 and with Laudrup's men looking shaky, now seems a perfect time to shine and put the Swans to the sword.