Surging Saints roar to win over tame Tigers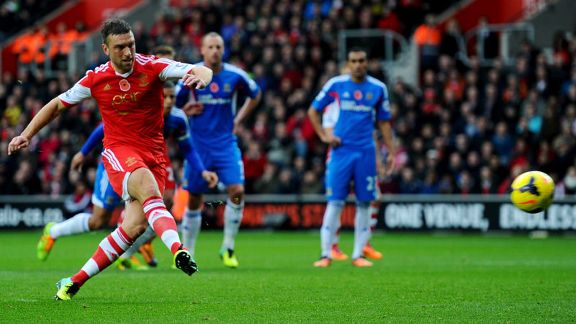 GettyImagesRickie Lambert is still essential to Southampton.
It is rare you watch a game that ends 4-1 and think that the scoreline doesn't really reflect the gulf in class between the sides, but that was the case Saturday in Southampton's victory over Hull City.

It looked like it was going to be a very long afternoon for the travel-weary visiting Hull supporters, as Saints took their team apart from the very first exchanges. Hull's back four looked shell-shocked from the off, and having earned praise for their performances so far it might be fair to say that they hadn't met an attack line as potent as this to date.

Credit has to go to Steve Bruce's side, as they did what many won't and tried to go toe-to-toe with Saints from a footballing perspective. This was probably their downfall ultimately, Saints being a much more fluid against teams who try and play the game the right way. The Tigers stuck to their guns through and after their consolation goal early in the second half, with their tails up thanks to the likes of George Boyd, Jake Livermore and Yannick Sagbo.

Ultimately, though, this game was about a scintillating Southampton team performance, with the individual efforts of England's latest star, Adam Lallana, the finishing touch to a great day of football. England manager Roy Hodgson sat in the St. Mary's director's box with a beaming smile on his face, surely not doubting he was right in calling for the three Saints attackers (whose movement had the Hull back line falling over themselves).

If Roy had any reason to be disappointed though, it might have been some regret for not calling for Nathaniel Clyne, who, again, was superb for Saints and provided two of the four goals.

For those who haven't seen a replay of Lallana's goal, make sure you do. The balance, skill and close control was something to behold, and Messrs. Gascgoine, Maradona and even Messi would have been proud to have their name against it. The ball stuck to the Saints captain's feet as he danced through the Hull defence before cooly slotting the ball past Steve Harper.

Saints fans have often laughed at the suggestion that England don't produce technically proficient players. Here's a news flash -- you've been looking in the wrong places.

Thankfully now Mr. Hodgson has taken notice (did my open letter to him help? That's not for me to say) and England will get a look at Lallana and Jay Rodriguez with three lions on their chest. It is only a matter of time before they are joined by Clyne, Luke Shaw and the superb James Ward-Prowse too.

It was perfect timing for Saints to get three points, with the international break looming and a tough run of games after it. Saints sit third in the Premier League and they are there on merit.

Keep the faith.