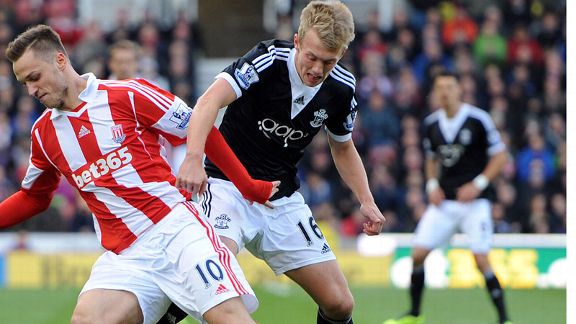 GettyImagesJames Ward-Prowse has been a shining light for Saints.
It's nice to see a club defying the notion that there is a lack of English talent, or that young English players lack the technical proficiency of their continental counterparts. Tune in to any Southampton game and you will see a team built upon a core of young, English, technically gifted footballers.

Saints' equalising goal against Stoke City on Saturday was a case in point. In a game that had conditions more suited to windsurfing, a combination of the young English talent on display rescued the game from being settled by the freak, wind-assisted long ball from a goalkeeper.

The move was simple: a lovely interchange between James Ward-Prowse and Nathaniel Clyne in their own half before a nice touch by Adam Lallana was sent back to Ward-Prowse. The cross then played by Ward-Prowse was as technically proficient as they come, scooping the ball sublimely into the path of the oncoming Jay Rodriguez. The striker's finish was odd to say the least as he headed it into the ground to see it bounce over Begovic and I'm not sure that was what Rodriguez was aiming to do, although many have suggested it was. Intended or not, it was the right end to a superb passage of play.

This really is the jewel in Saints' flourishing crown, throw Luke Shaw into the mix and the club have built a side around a quintet of young English footballers who I defy anybody to suggest aren't as technically gifted as any of their European counterparts.

This team might not have beaten Stoke City -- after Begovic's freak opener -- but Mauricio Pochettino was spot on when he spoke about their superiority. The difference in the level of football being played by the two sides was monumental, and Saints were doing their best to pull off their usual style despite the conditions.

That is about coaching and the philosophy of the club to its core. Ryan Shawcross, as decent a centre-half as he can be from a defensive point of view, would never have made it at the Saints Academy and that is the fundamental difference between clubs like Saints and more established sides surprised at their fortunes this season.

This isn't the culmination of work over the last summer. This is years of work behind the scenes developing a core of decent kids playing football the right way, then added to where necessary to create a decent first team. It isn't rocket science. Manchester United have been doing it for years; Liverpool before them. On the few occasions that Saints have added to the squad, they have often done so with young talent like Rodriguez and Clyne as to reinforce the policy. Victor Wanyama has come in over the summer, far from the finished article, but flourishing in his role with the talent around him.

Ian Holloway, a man critical of Saints in the past, has admitted regret in trying to change Palace too soon after promotion to the Premier League, citing Saints as the act to follow.

When Nicola Cortese spoke about the 'Southampton Way' people mocked and sneered, accusing him of dreamer's rhetoric. This season you are watching it. Saints' young players are the jewels in their crown, and in Pochettino they have found the right man to polish them.

Keep the faith.