A point gained for Southampton at Stoke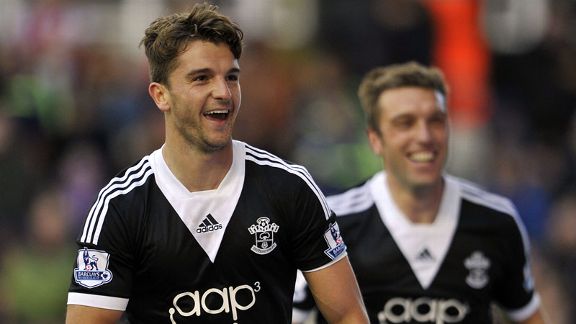 PA PhotosJay Rodriguez celebrates salvaging a point for Southampton at Stoke.
Many people might look back on Southampton's 1-1 draw at Stoke on Saturday and think that perhaps Saints should have come away with more than one point. There is of course an argument to suggest that Saints were the better side, but it is worth stressing that a point in such conditions is one gained and not two lost.

It was not an arena in which free-flowing football was going to stand out. Asmir Begovic's wind-assisted, 92-yard goal in the opening 15 seconds meant that the opening exchanges of this game were going to be scrappy from Southampton's point of view. The players found themselves in a position they aren't used to. Behind, and the instantaneous nature of it, coupled with its sheer bizarre nature left them stunned.

In truth, Stoke looked like they might take advantage of Saints' loss of composure and made it a difficult afternoon for the travelling support, but they failed to convert any more of their early pressure and the visitors soon found their feet in the game. It was a relatively even contest from that point onwards and Saints build up to their equaliser was one for the purists; an interchange of play between the side's young, English players which culminated in an exquisite cross from the outstanding James Ward-Prowse that could have come straight out of David Beckham's repertoire. The finish from Jay Rodriguez was strange, but looped over Begovic after a bounce and meant Saints would leave the Britannia Stadium with at least a point for their troubles.

With both goalkeepers struggling to even keep the ball still to take goal kicks, you get some idea of the environment that the players were trying to compete in. It was probably the worst Saints have played all season, partly down to the conditions and partly down to Stoke using their aggressiveness and direct nature to restrict them from playing. There were stand out performers -- Ward-Prowse was my man of the match, and he is improving with every game -- while Victor Wanyama was like a brick wall in the midfield. I was impressed by Marko Arnautovic for Stoke, a player who looked like he might be more suited to playing alongside Adam Lallana et al than Jonathan Walters.

I actually predicted a 1-1 draw before the game, and felt that on the whole it was a fair outcome. To go to the Britannia, in the howling wind, play below par, keep the unbeaten run going and leave unscathed is no mean feat. A performance that confirmed for the supporters that this team has the resilience to dig in in the face of adversity, as well as run teams off the park.