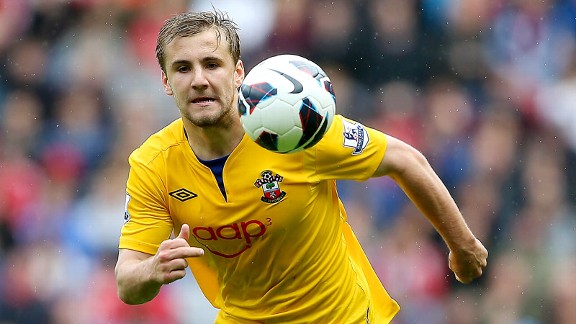 Scott Heavey/Getty ImagesLuke Shaw requires another good game as Stoke favour attacking his flank.
This is a peculiar feeling. The weight of expectation now weighs heavy upon Southampton's shoulders. I'm not sure what the bookies think, but I'm sure many punters' coupons will have an away win down for their trip to Stoke on Saturday.

With their new-found respect amongst their fellow Premier League clubs, Saints can react to this in one of two ways. They can either let complacency slip into their game and pay the consequences or they can remain focused on the job in hand and give another good account of themselves. So far this season it would suggest that the latter is the norm.

- Rodriguez talks up Saints form

They will know better than anyone that a trip to the Brittania Stadium will not be as simple a process as playing Fulham at home. It would be crass of me to let the Potters reputation suggest that they will be in for a rougher experience. Tony Pulis is gone, and this will be the first time Saints face a Stoke side with their former player Mark Hughes at the helm, already, their tag as brawlers and long ball merchants is already starting to diminish. In fact, so far this season they are as low as 16th in the discipline table (Saints are third) and 18th in the long ball table (Saints are ninth). This could work to Saints advantage, who clearly perform better against those who like to pass the ball.

The discipline statistics interest me the most. There is a case to be argued that while Stoke have slightly lost their edge and results haven't been going their way, Saints have found theirs and are defensively solid. Not that fouling people is a particularly good idea for either of these sides on Saturday. If the clubs have something in common this season it's a lack of goals from open play, Saints have scored more from set pieces, while Stoke have scored as many in dead ball situations as they have on the move.

So how do Saints keep their run going? Can they avoid heartbreak like last season in the Potteries?

Obviously restricting the number of set pieces they give away with help, Stoke are a side who need to work for goals, so don't make it easier for them.

It could be another busy afternoon for Luke Shaw and whoever sits in front of him, Stoke send 41% of their play down the right at the Brittania. Shaw has so far looked better than most he has defended against.

Stifling former Saints forward Peter Crouch, and the impressive Marko Arnautovic could be the order of the day. The pair both scored at Old Trafford last time out, as Stoke were unlucky not to go one better than Saints and take all three points. Crouch will always be a threat, Saints know that better than anyone, while Arnautovic looks to have been a superb signing for Stoke. In fact if you remove these two from the potential Stoke team it starts to look a little toothless so containment is a must.

The signs are all there for Saints to enjoy some ball time, with Stoke on average conceding possession to their opponents (even at home they average 48%). This gives me every confidence that Saints will get chances to win the game, if there was one criticism from the Fulham match (incredulous to suggest I know) it was a lack of ruthlessness in front of goal. If Saints get chances on an away trip to Stoke they have to take them, and they don't need to try and walk it into the net every time.

I have the feeling this could be a pulsating encounter, and for Saints fans the games can't come round quick enough.