Halloween came early for Fulham at St. Mary's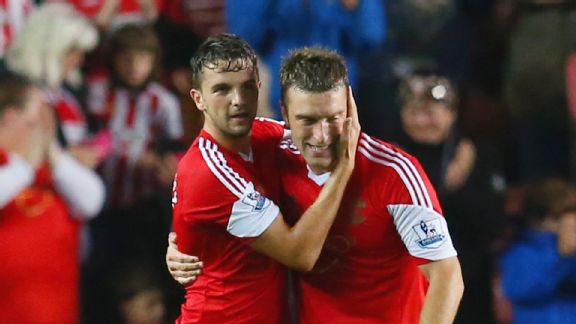 Julian Finney/Getty ImagesJay Rodriguez, left, and Rickie Lambert, right, were the goal-scorers in Southampton's 2-0 romp over Fulham.
Halloween is still four days away, but for the travelling Fulham fans, their 2-0 defeat at the hands of Southampton yesterday was a horror show.

The scene was set. Under the dark and gloomy clouds that hovered above St. Mary's, with the wind pouring across the pitch making that eerie whistling noise, eleven innocents in white faced a disaster of all proportions. They did all they could to defend themselves, as their red-stained aggressors came at them relentlessly again and again. With the smell of blood in their noses, there was no let up from the savages in red, and the men in white had nowhere to go. Everywhere they turned there was not one, but two, three or four enemies -- losses were inevitable. This was a slaughter.

- Report: Southampton 2-0 Fulham

But enough of the indulgent horror-based metaphors, this was a performance of real class from a Southampton side finally getting the respect they deserve. Fulham were poor, no one is going to argue that, but they were poor because Saints gave them no other option than to be. With the exception of a 5-10 minute spell when the game was already over, Fulham were not allowed to play by Saints, and had not even registered a single shot.

This isn't a side that lacks talent, with Dimitar Berbatov, Pajtim Kasami and Bryan Ruiz they have an arsenal that can create chances, but Saints' well-marshalled defence simply didn't allow them to do that.

Berbatov's personal performance was little short of negligence. Were I a Fulham supporter, I would be dismayed at his ownership of the captaincy, especially given that Scott Parker (probably Fulham's brightest player, and when I say bright I mean least terrible) was the only one trying to bring organisation to their side.

It was fitting that this game was shown on television so the country could see that while the pundits tell us that England isn't producing technically proficient players, Southampton were ripping a team to pieces with five in their side. Adam Lallana, Jay Rodriguez, Luke Shaw, Nathaniel Clyne and James Ward-Prowse, all young, all English, all superb, and dare I mention the performance of their elder statesman, Rickie Lambert?

Mr.Hodgson decided to watch Liverpool this weekend though, presumably so he could learn more about Steven Gerrard. Let's hope he had his television on yesterday so he can see what he has been missing.

Saints were superb to a man yesterday, and you will likely not see a more dominant performance in the Premier League this season. Had it finished 8-0 no one could have had any complaints.

With two more winnable games up next, before trips to the Emirates and Stamford Bridge to follow, Saints could be in a very decent position going into Christmas. I know this has to end at some point, but life as Saints fans has always been a roller coaster, and it's nice to be on a lengthy rise.

Keep the faith.