'Tis the season to be Jol-ly....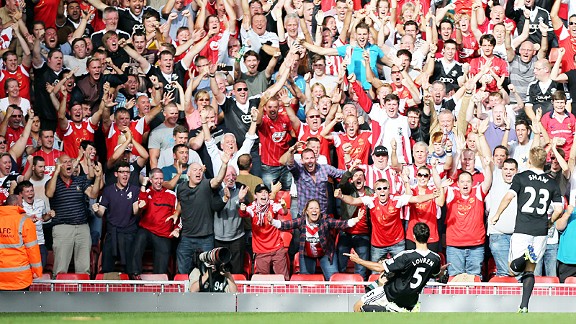 GettyImagesSouthampton will be hoping to continue their fine recent form.
Saints welcome Fulham to St. Mary's on Saturday evening and both sides will be looking to build on their current form.

Based on the season so far, the oh so knowledgeable pundits will be looking at this as a home win, making Saints the favourites, and I'm not sure I'm comfortable with that. Saints have always been a team that are at their most dangerous when everybody writes them off. It's a catch 22 situation. I don't want Saints to be forever labelled 'Struggling Southampton' but I don't want them to lose their element of surprise. There is a certain smugness to be afforded when the armchair fan of other clubs utters their dismay at losing to 'a team like Southampton'.

But enough of my 'cake and eat it' desires! Fulham you say?

The first thing Saints must do to get a result against the Cottagers is not underestimate them. For all the talk in the build up to their game against Crystal Palace you would think they hadn't won all season, actually in their last four games they have beaten three Premier League sides, albeit one in the League cup.

For me, Mauricio has to recall Rickie Lambert to the starting lineup to take on Brede Hangeland. In their game with Palace, Fulham's defence looked awful, with Hangeland the main culprit. When Palace took a deserved lead, the travelling fans might have been forgiven for thinking the Michael Jackson statue had returned and was playing centre half. Lambert is capable of terrorising Hangeland.

For all of Saints' much talked about defensive prowess, they have to find a way of stopping Fulham scoring wonder goals. They looked dead and buried in the game at Selhurst Park until Kasami and Sidwell's respective fantastic strikes. They flipped the game on its head.

To that end the key for Saints might be to lead early and kill Fulham off. And do something Saints haven't quite mastered yet - play their best and seal the game in the first half. Don't get me wrong, I don't think trailing at half time would demoralise this mentally strong Saints team like it did Palace, but it's not exactly a help either.

Luke Shaw's performance could be crucial too. Fulham like to play down the right, utilising Reither and Ruiz. I would be tempted to play James Ward-Prowse in front of Shaw. The 18-year-old deadly duo could make a great defensive foil.

At the risk of cursing it into the realms of nothingness, I think this might be a great game. Both teams will be confident on the back of recent results and I wouldn't expect Fulham to sit back (though I hope they do, Saints could cause carnage).

Keep the faith.