The key in Manchester: Being more 'United'.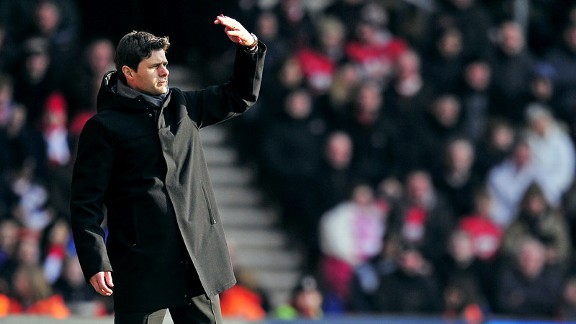 Glyn Kirk/AFP/Getty ImagesMauricio Pochettino have Southampton playing with a confidence that could be crucial against United.
In what might have been considered one of the most daunting fixtures on the calendar for the last 20 years, Saints head to Old Trafford on Saturday at a time when it doesn't seem quite as impenetrable.

This does not mean it will be an 'easy' game for Saints at all, in fact it is highly probable that everyone associated with the club would be delighted to come away with even a point. That said though, after the performances so far this season, especially the one at Anfield, there is no reason that Saints can't pull off a result at Old Trafford, something they haven't achieved since September 25 1999, when Matthew Le Tissier left Massimo Taibi red faced and the sides drew 3-3.

The key factor may well just be confidence. Mauricio Pochettino certainly has Saints playing with that, in fact in this fixture last season Saints were unlucky to lose (Sir Alex Ferguson described Saints as his toughest opponents all season), and that was at a time when the form of both sides was completely different. If confidence was high for the Saints players then, it is in orbit now, having conceded just two goals in the league all season and sitting in fourth place in the Premier League. Their opponents may not be quite so upbeat, having had an inconsistent start under new manager David Moyes and for the first time in decades the Manchester United fans are finding their seats a little less comfortable than they are used to.

So how do Saints continue their good form at fortress (or can we downgrade that to castle this season?) Old Trafford? Well, from Pochettino's press conference yesterday it looks like there is a better chance that Artur Boruc and Luke Shaw will both play than the fans might have been expecting and that is two massive boosts. Both will be key players in terms that had they been missing, the Saints line-up would suddenly look considerably weaker.

Saints' defence has been outstanding so far in this campaign, and that will need to continue against a forward line that will likely contain both Wayne Rooney and Robin van Persie, and contrary to thoughts going into recent years against United it would be prudent to play a high line against the pair, with United having one of the worst records for being caught offside in the league.

In a more obvious statement, there are weaknesses in this United side to aim for. It is likely that they will play either Phil Jones or Chris Smalling at right-back, neither of whom look comfortable in the position. Pitting Lallana against them could be fruitful, with the Saints attacker in sizzling form.

I would be inclined to play Jay Rodriguez from the start too, giving an injection of pace to the Saints forward line, which a now cumbersome Rio Ferdinand may not feel comfortable with. Saints will presumably stick to their high pressing game, and this could also be beneficial against David de Gea in the United goal, the keeper has found a team mate in less than 70% of occasions where he has to use his feet.

Manchester United will still be overwhelming favourites for this game and rightly so, they are just a couple of wins away from being right back on track and everyone wondering what the fuss has been about. But, while they are searching for those wins it is a great time to play them. The pressure is all on them, and if Saints can get an early goal or even keep things level until half-time the home crowd will grow impatient. There might be no better time to go to Old Trafford looking for a win.

Keep the faith.