Champions League? We're having a laugh during enjoyable start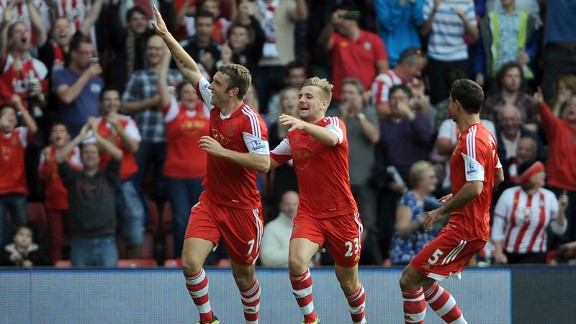 PA PhotosSouthampton's Rickie Lambert celebrates his goal.
Another clean sheet for Southampton (a fourth on the trot) provided the solid foundation for a 2-0 victory over Crystal Palace at St. Mary's Saturday, but it was the elusive goal from 'open play' that stirred the crowd.

The scorer was Dani Osvaldo, a tidy finish from 18 yards after some neat footwork to tee himself up. The celebrations were ten-fold. Having endured another frustrating 45 minutes where Saints dominance went unrewarded, the Italian's strike early in the second half was met with scenes of elation, from the man himself who was desperate to get off the mark in a Saints shirt and supporters whose collective relief was vocal and emotive.

Osvaldo has worked his socks off in his opening games for the club, always looking to make something happen and visibly agitated when he didn't take a chance. He dedicated the goal to the supporters after the game who had shown patience and made him feel welcome. His team-mates were clearly pleased for him too, as they surrounded him to offer their congratulations.

To get the proverbial monkey off their back that was the lack of an open-play goal perhaps gave Saints immediate impetuous, as just minutes later Ovaldo bursting through was brought down and Rickie Lambert smashed home an inch-perfect free kick. For Lambert this was a personal monkey banished having not scored since opening day, and the added pressure of being England's front man.

Celebrations were again plentiful, Saints team spirit is a joy to behold and again every man joined the Lambert sandwich on the touchline. More poignant was Lambert's jog to the dugout to clasp hands with manager Mauricio Pochettino after a week where yet more lazy journalism suggested that the Argentine gaffer was looking to offload the forward.

Pochettino had laughed this off, of course, in his pre-match press conference and he must have had a wry smile seeing both his strikers net after the basis for the media speculation was that he couldn't play them together.

In truth, it was not the prettiest of encounters, but Saints rarely looked threatened by their opponents and in truth could have won by a few more without cause for complaint from the visiting supporters.

On the back of the result, Saints spent 24 hours occupying fourth position in the Premier League and in turn a place in the Champions League. Which was nice.

Keep the faith.