Ship shape and Bristol fashion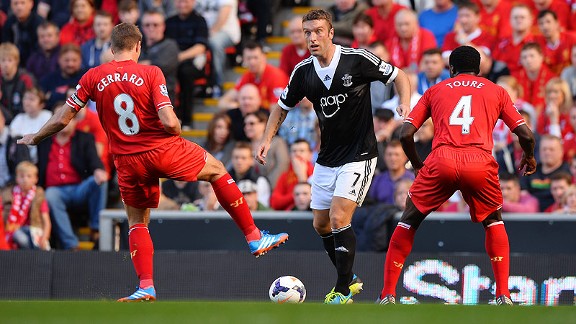 Paul Ellis/Getty ImagesAfter humbling Liverpool at Anfield, Rickie Lambert and Southampton turn their attention to a Capital One Cup clash vs. Bristol.
Saints host Bristol City in the Capital One Cup tomorrow evening and this represents the perfect opportunity for Mauricio Pochettino to make sure his squad is 'Shipshape and Bristol fashion.

- ESPN FC: Latest Southampton news

Shipshape isn't too much of a worry, Pochettino doesn't often deviate from his favoured 4-2-3-1 formation, but making them 'Bristol fashion' could be the key to a fruitful season. A quick check of wikipedia confirms that this refers to the particular way everything was stowed when docking in the extremely high tidal port of Bristol so that it didn't spoil when tipped (not tweed trousers tied at the waist with string).

What are you blathering on about I hear you cry? Well, this cup competition, as demonstrated at Barnsley, is an opportunity for Pochettino to get a look at his fringe players and up and coming Academy members. This is great, but more importantly it means those players get used to playing particular roles in the setup. It's a squad game these days and with meticulous preparation and attention to detail, you can make sure that all your backup players are ready to step straight into an on-pitch role in any given circumstance. There is nothing worse than injuries forcing managers to put square pegs in round holes. Just ask Liverpool fans how well that worked for them on Saturday.

While I am tenuously using old English maritime sayings to make footballing points, I should also mention that Pochettino should also be careful not to 'spoil the ship for a ha'p'orth of tar'. Which of course means that Saints shouldn't ruin the good chance of a cup run by cutting corners and picking a team that can't win the game.

Right, that's enough of that now, but the points are valid. I love seeing the young players given an opportunity, and Saints should never stray from that policy. But at the same time I think we have a squad capable of winning a cup competition if we give it the right level of attention.

The club's chairman and players have talked about Europe in interviews and this competition is a way into it. Just look at Swansea. They're living the dream on the back of taking this cup seriously. Wembley is crying out for 55,000 Saints fans to raise its roof again. This could be its chance.

With officially one of the tightest defences in Europe at the moment, Saints have the blocks on which to build a successful season. Is a cup too much to ask?

Keep the faith.