Saints worthy winners at Anfield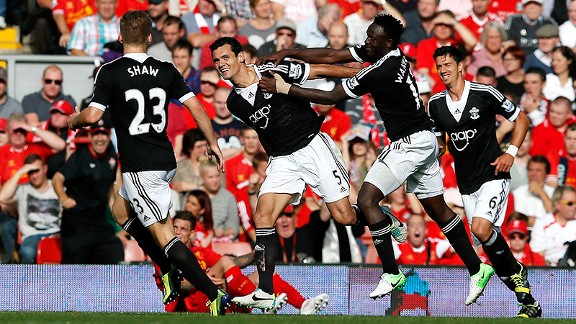 John Powell/Liverpool FC/Getty ImagesDejan Lovren and Southampton were all smiles after scoring the game's lone goal at Anfield on Saturday.
On paper, this was a nailed on home win. I very much doubt you would have found a pundit who predicted otherwise. Some Saints fans, though, were confident of a win, and it is they who will be smug after the travelling side beat Liverpool 1-0 at Anfield this afternoon.

- Match report: Liverpool 0-1 Southampton

Some might look at the result and initially think this was a staunch smash and grab effort on the road, but actually it was nothing of the sort. It was the result of a team playing with confidence heading into the match with a plan and sticking to it.

So why were some Saints fans so confident? I, for one, wasn't. At least, I didn't want to fall into the trap of being made to look foolish. On Twitter I did allude to the fact that Saints would get a point, and in the back of my mind that was the least I expected. Easy to say now I know, but if you read the preview I did for ESPN FC you will see that I was clear on the gameplan Saints needed to take to Anfield and they did just that.

It is no surprise that after struggling to break down the -- shall we say -- more basic in style sides like West Ham and Sunderland, Saints looked more potent against a team that like to play football in the way in which the god of football (Matthew Le Tissier) intended it. This has long been the case and Saints always have the keys to unlock sides that like to pass it out from the back.

The plan was clear. Keep Sturridge quiet (a job Dejan Lovren and Jose Fonte did with panache) and go in level at the break. This worked to perfection with Saints restricting Liverpool to half chances and frustrating their attacking players and Iago Aspas (we can't really call him attacking can we? Looks like a very poor acquisition). It is a bonus of course when you can rely on your keeper to earn his money at the key moments and Artur Boruc did just that from Steven Gerrard's rasping free kick.

Having seen how the Reds have played in second periods so far this season, it was clear that this was the time to get at them and Saints, since Mauricio Pochettino took over, have looked like one of the fittest sides in the league. Once Saints took the lead, I was pretty confident their pressing and superior stamina would see them home.

It was fitting that it was Lovren who won the game. The Croatian has helped transform Saints' back four into a touch cookie to crack so far, and has without doubt been the club's most consistent performer. All he had been missing was a goal and he took his chance well to make himself the hero again.

As a Saints fan, I have long been accustomed to doubt from outside the club, doubt from ourselves and doubt from anyone who feels the need to comment on them. But the days of going to Anfield, Old Trafford, etc. and resigning ourselves to certain defeat are long gone. The Premier League is a very tough league, but Saints have a squad to compete and as the new players start to gel and the gameplan starts to work, don't write them off just yet...

Keep the faith.