Liverpool Preview: A Game of Two Halves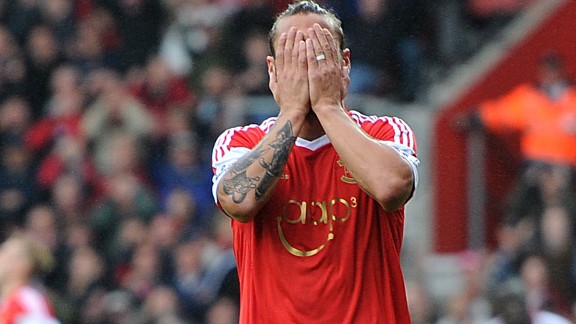 PA PhotosPablo Osvaldo holds his head after a missed chance against West Ham.
On the face of it, Liverpool at Anfield represents a pretty daunting challenge for the stuttering Saints. Brendan Rodgers' side are certainly in form, dropping just two points from a possible 12 and sitting top of the table.

Saints should draw some encouragement though from the fact that they perhaps should have been beaten in their last game at Swansea. Prior to the visit to Wales, Liverpool were the epitome of consistency with three 1-0 victories to their name in the league proving that they are sound defensively, and with Daniel Strurridge on form (he has scored in all four league games) they are showing that life without Luis Suarez is actually pretty sweet.

There are chinks in the Reds' armour though that Mauricio Pochettino should be looking to exploit.

If Saints can keep Sturridge quiet, they will be halfway to a clean sheet, with the rest of Liverpool's squad starting the season a little goal shy. In fact with an average of 3.3 shots per game, Sturridge is heavily relied upon to provide the attacking threat. The only player close to the England man in terms of shots is one-time Saints target Phillipe Coutinho (2.8 shots per game), but he will miss the match on Saturday and that could see a lack of creative spark from the home side.

Based on their opening four fixtures though, Saints' gameplan for Liverpool should be clear: Frustrate them in the first half and get to the break on level terms. So far Rodgers' side have looked unbeatable in the first 45 minutes, then struggled in the second half. Having lead 1-0 at half-time in all three of their Premier League victories, they have managed to hang on, but not without a sense of fortune, and if Saints can use their knack for dominating second halves and mega fitness levels to their advantage there is no reason why they can't come away from Merseyside with a positive result.

Notably, Liverpool have given up possession to their opponents at Anfield this season, and Saints know they can keep the ball, so it could come down to what Saints do with it when they get it. Sadly this has been a weakness for us so far this season, but the game might represent the perfect way to put that right.

This is going to be a big test for both the so-far-impressive Saints back four, coming up against the league's form striker, and Saints' misfiring frontline who will want to get back on the scoresheet themselves.

Keep the faith.