Saints need their Mojo back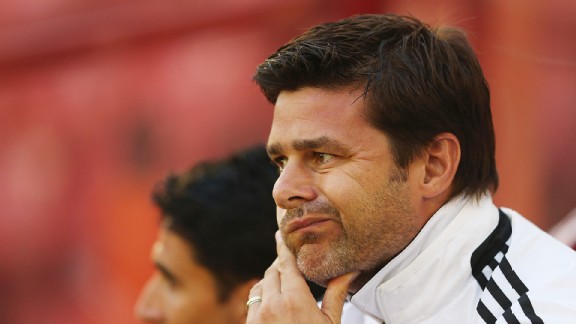 Clive Mason/Getty ImagesMauricio Pochettino's Southampton has sputtered in attack this season.
Imagine a Venn diagram. Section A is attacking prowess. Section B is defensive stability. Section C is attractive football. The section that represents where A, B and C cross over is footballing perfection.

Saints started last season under Nigel Adkins with decent positions in Sections A and C, but a terrible position in Section B. Footballing perfection was way off and the discussion on improvement all centred around the defence and rightly so.

- ESPN FC: Latest Southampton news

Mauricio Pochettino took over in the January and almost immediately Saints' position in Section C was improved. There was a slight improvement in Section B and Section A remained steady. The signs were there that with time, the Argentine coach would have Saints closing in on perfection.

This season, from a results point of view, has been a much better start than last, but it is not without its concerns. There has been a marked improvement in Section B. This coincides with the signing of Dejan Lovren (without doubt, Saints' best bit of summer transfer business) and the re-emergence of Jose Fonte as a starting centre half.

This is great. Of course it is; all we wanted last season was some defensive stability to match our attacking prowess. The position in Section C has also improved again, Saints silky football wowing people at times. We must be nearing perfection surely?

Wrong. Section A has taken somewhat of a battering. With just two goals so far in the league, neither of which have come from open play, it would seem Saints have sacrificed potency going forward for solidarity at the back. How frustrating.

How has this happened? Call me crass but it could be purely down to the level of opponent we have played so far. With the exception of Norwich where we were beaten fairly, Saints have dominated their games so far this season, but struggled to impose the high pressing game they were earning kudos for last season. In WBA, Sunderland and West Ham, they came up against teams who were happy to sit back and soak up pressure, and as much as it might insult them, settle for a crafty point.

This theory will be proved one way or the other on Saturday at Anfield. Liverpool have looked scintillating so far this season and there is no way that they will sit back. It's the first real test for the improved Saints defence and should provide a more open game for the attack.

Perhaps the opposition aren't the issue at all though. Perhaps Pochettino, with half a season under his belt and a bit more experience of the game in England, is purposely playing it more conservatively. Arguably making Saints hard to beat is a major plus point. This might explain the use of the more defensively-minded Callum Chambers over Nathaniel Clyne, and ditto James Ward-Prowse over Jay Rodriguez, but both of those moves he reversed on Sunday.

It could also be a side effect of the inclusion of Victor Wanyama. The Kenyan has had two outstanding games so far, and two he might want to forget. It feels a bit like he and Morgan Schneiderlin are still working each other out and at times it looks like they both want to get forward. This isn't necessarily a problem but it restricts the full backs from being adventurous.

The victim of the Wanyama signing has been Jack Cork. Not even on the bench on Sunday, Cork was one of Saints' star performers last season and at the moment his calming influence on proceedings is lacking in the Saints midfield. It was no coincidence that Saints' form picked up on Cork's return from injury last season and Pochettino might want to think twice about letting him drift completely out of contention with fans already moaning about a lack of Cork in the side.

I am certain Saints will find their mojo again. With Rickie Lambert, Adam Lallana, Gaston Ramirez and Rodriguez around the goals will come. There is an element of getting to know each other going on, with new signings throughout the spine of the side. To add to the attacking options we now have Dani Osvaldo, whose touch on Sunday was sublime at times and his first Saints goal is so close you can taste it.

It is important that there is a level of patience from the crowd at times like this, and poignant to remember that Saints have only lost one game so far. It might not happen against Liverpool on Saturday, in all likelihood it won't, but it will happen. Mark my words.

Keep the faith.