Saints need to learn to win ugly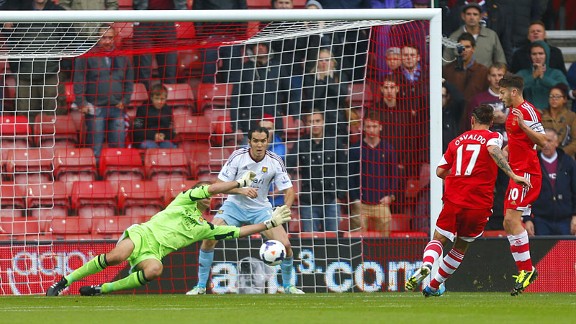 PA PhotosJussi Jaaskelainen was inspired form for West Ham at Southampton.
"I'm sure you'll understand my point of view, we know each other mentally, you gotta know that you're bringin' out the animal in me. Let's get physical." So sang Olivia Newton-John back in 1981 but imagine Big Sam Allardyce, rainbow leotard and all prancing around to the tune, It's not pretty and neither was Southampton's 0-0 draw with West Ham.
In a game that offered little in the way of entertainment it was down to some hefty challenges to make up the talking points.
Sam Allardyce, without even a hint of irony was bemoaning a first half tackle by Morgan Schneiderlin that he felt should have been a red card. I wonder if 'Big Sam' a man who's teams have earned a reputation for being 'physical' was trying to take the focus away from the failings of his side. The tackle which Allardyce said was 'two footed' and 'off the ground' was one, not two footed and two, not off the ground, in fact Andre Marriner made the correct decision in not even awarding a foul, as Schneiderlin robustly, but fairly, won the ball.
West Ham made plenty of robust challenges themselves, and it was interesting that Allardyce didn't feel the need to mention one by Joey O'Brien on Adam Lallana which was by Sam's own Schneiderlin based standard, also a red.
If you are going to dish it out Sam you have to be able to take it. Of course I am being rather hypocritical as I am using Sam's ironic moaning to avoid the subject of Saints own frailties. Much like the Sunderland game you can look back on the 90 minutes like many pundits did and talk about the fantastic interplay, and how much in control Saints were, but again they go home with just the one point. Saints need to learn how to win ugly, We have to be beating poor sides like Sunderland and West Ham at home. As much as the Premier League is now full of sides who like to play attacking, free flowing football there will always be sides like the Hammers who are happy to get stuck in and dig out a point. Saints have long been missing a plan for games like that and yesterday was no different, as they huffed and puffed but failed to blow Big Sam's house down.
There were too many sloppy passes and too much stuttering in possession, and while West Ham offered no threat whatsoever Saints themselves iced their mediocre cake with some poor decision making and lack of composure in the final third.
It wasn't all bad of course and Jussi Jaaskelainen earned his team a point, it is not over the top to suggest that had another keeper played it might have ended 3-0 and we would all be talking about how great this Saints team is. The next home game sees us face newly promoted Crystal Palace and after two draws against poor teams at St. Mary's the Saints players owe us a performance, some clinical finishing and three points.
Keep the faith.