Clipping the Canaries' wings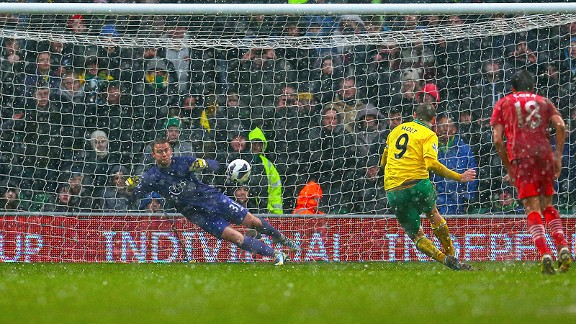 Julian Finney/Getty ImagesArtur Boruc's late save on a Grant Holt penalty kick helped the Saints secure a point at Carrow Road last season.
Saints have gotten four points after two games. It took them six games to get that many last season, so it's fair to say that our start has been better. What's more is that they have improved on their result from the corresponding fixtures from the 2012-13 campaign, and they will be looking to continue that trend on Saturday at Carrow Road.

- Report: Five-star Saints crush Tykes

A 0-0 draw was the order of the day last time, only an Artur Boruc save from an unwarranted penalty in the dying minutes was justice after Grant Holt got up to his old tricks with a tumble in the box. So Saints will be hoping for all three points this time round, capitalising on their good start and Norwich's stuttering one.

Just how will they do that though?

A good start would be to go against everything that Saints believe in: Play it in the air. The Canaries have won just a staggeringly low 33% of aerial battles so far this season, meaning good delivery into the box by the likes of Ward-Prowse and Luke Shaw could be rich pickings for Rickie Lambert and Dani Osvaldo.

Secondly is something more familiar: The through ball. Everyone loves a through ball don't they? Well, no, Norwich City don't. They've petitioned FIFA to have them outlawed from the game, this might not be true, but it has been identified as a weakness by the statisticians at whoscored.com. Perhaps one for Gaston Ramirez to start in the hole?

It is important that MoPo gets his selection on the left hand side spot on. In their opening game at Carrow Road against Everton, 52% of their attacking play came through Whittaker and Bennett on the right. A good test for Shaw to show just how good he is.

It promises to be an interesting encounter, with both sides raising eyebrows with their level of intent with the players they have signed. I would expect Osvaldo to make his first start and he will be looking to open his account, while several of the Saints' youngsters and the likes of Steven Davis and Emmanuel Mayuka now give Pochettino a selection headache in light of the 5-1 defeat of Barnsley in the Capital One Cup.

If Saints can come away from Norfolk with any sort of positive result though, I think everybody will be pleased, it would continue their unbeaten start and represent a decent point on the road. A win and people will start to take Saints hovering around the top of the table seriously.

As Norwich's favourite son Alan Partridge might say, 'Back of the net!'

Keep the faith.