How will Saints line up with Osvaldo?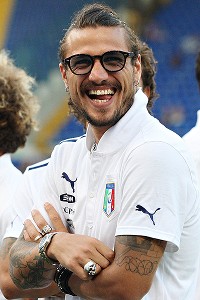 Paolo Bruno/Getty ImagesWill Pablo Osvaldo's arrival at Southampton bring more smiles to the faces of Saints supporters?
Well, that was quite some week to be a Saints fan. Rickie Lambert gets his long-deserved England call-up and scores on his debut -- I hate to say I told you so, but I TOLD YOU SO -- then a Saints' lineup including three 18-year-old Academy graduates went to one of the toughest grounds in the Premier League to get anything and won 1-0 -- Lambert with the goal, of course -- then Sunday the club announced the signing of Italy international Pablo Daniel Osvaldo.

Osvaldo comes with some bizarre baggage, but there is no denying that Saints have secured a fantastic striker and someone who will light up whichever stage he plays on. But where does this leave the man of the moment Lambert? Some are suggesting he may be forced out of the team. Not me. In fact I think this move could be beneficial to the Scouse forward's push for the World Cup!

-Osvaldo thrilled with Pochettino reunion
-Lambert: 'Best week of my life'

Lambert was fantastic last season, but in truth looked jaded towards the end, having been heavily relied upon for goals and playing in every single game. In the modern game this is too much, and the pressure, thought it never got to him will eventually tell and even Lambert stopped scoring as the season came to a close.

In Osvaldo, some of that pressure will be lifted as at just shy of £13 million, he will be expected to provide his fair share. But if Saints play one up top as they usually do, they can't both play can they? Well, I think they can.

I can see Lambert taking on the central role of the support three, Osvaldo playing the lone striker role and the pair combining and switching positions as necessary. What we might have here is the beginnings of an ideal partnership, and should they click, it could spell very worrying times for Premier League defences. In fact, a front four combination of Osvaldo, Lambert, Jay Rodriguez, Adam Lallana or Gaston Ramirez looks pretty frightening.

It is easy to overreact that the start of one era is the end of another, but with Lambert's first cap and goal last week, that particular tool at Mauricio Pochettino's disposal is unlikely to suddenly be sparsely used. This isn't about who will play, but how. Saints are pretty good at front play combinations and Lambert is a key part of that. With his price tag and reputation Osvaldo will be, too.

After MoPo's team selection on Saturday though, I should have learned not to second guess him by now. What is for certain is that no matter what team he picks, Saints will be putting on a show.

Keep the faith.