Saints finally get their Wan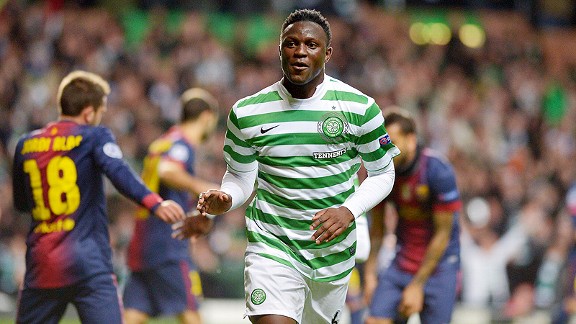 Jeff J Mitchell/Getty Images) Victor Wanyama's Celtic shirt could help an entire community in Zambia.
They said Saints couldn't do it. They said he was 'too good' to play for Southampton. Well today, Saints did it.

The long running will he-or-won't he saga is over. Victor Wanyama is a Southampton player. That's right; 'little' Southampton, 'struggling' Southampton. Journalists and fans of other clubs have been telling us for weeks that there was no way he would end up at Saints, so when the club announced the signing at around seven this evening it didn't just feel good, it felt great.

- Saints complete Wanyama signing

Now I'm not one for rubbing people's noses in it (alright I am), but to prove a lot of people in football wrong made the signing of a great player all the more sweet. We have ambition and to say it is ridiculous that a player of such talent would sign for such a club is difficult to swallow. You see it reeks of elitism. Saints might have been in the relegation mire last season, but how do we go about not being in it? By signing better players, that's how. This notion that clubs like us shouldn't be allowed to sign players that fans of Liverpool, Arsenal and Manchester United believe could play for theirs is hilarious. I know these clubs like their pedestal to be secure, but guess what every so often someone likes to come along and shake it. Right now, that might just be Southampton.

But less of the sour grapes, what Saints have done today is signed an extremely talented footballer. A central midfielder who you might describe as box to box, Wanyama showed just what he is capable of in Celtic's Champions League triumph against Barcelona. Sure, having come from the SPL there is an obvious risk and Saints fans will be hoping he is more an Artur Boruc than a Neil McCann. Chances are though that Wanyama has a big future ahead of him, and he is in the best place for a young up and coming star.

Arguably the midfield paring of Jack Cork and Morgan Schneiderlin was Saints' strongest asset last season, and many will not want to see this upset, but I think we might see Schneiderlin play further forward in the position Steven Davis often occupied, leaving Wanyama to partner with Cork in that midfield position just in front of the back four.

Wanyama can also play at centre half so perhaps he will be employed there at times too, but personally I am looking forward to seeing him boss that midfield and impose himself on any opponents that give him and inch because he will certainly take a mile.

Congratulations to MoPo and Mr. Cortese who played hard ball with the player's agents.

Victor Wanyama is a Saint. And on our terms. Wake up Premier League, Southampton aren't here to make up the numbers.

Keep the faith.