Three is the magic number?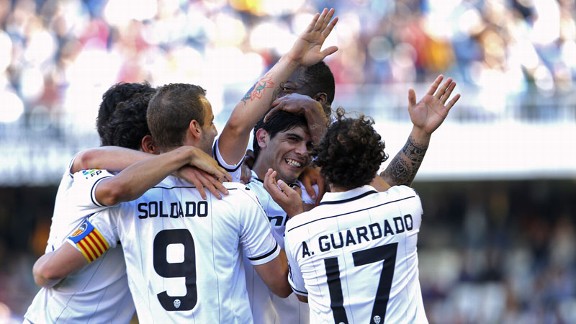 GettyImagesChris Rann hopes Ever Banega can be convinced to join the Saints.
Saints fans got used to extreme cageyness from Nigel Adkins. In an Adkins press conference, the theme was very much positivity, hyperbole and showmanship with very little substance.

• Rann: Preparation is key for the Saints

Mauricio Pochettino is a little different. If a player is injured he will comment on it, and in his most recent chat with the nation's media, he even spoke about transfer targets and responded to questions on players by name.

Three players long linked with Saints this summer are Celtic midfielder Victor Wanyama, Valencia's Argentinian playmaker Ever Banega and Internacional striker Leandro Damiao. Pochettino confirmed interest in all three. It was a refreshing change for fans to hear such a confirmation and if the summer transfer window anticipation wasn't tense enough, now fans are even more desperate for some 'official' news.

So having strengthened the defence with Dejan Lovren, are these the three names that would conclude Saints summer business and take them to having a squad with enough quality to push for the heights expected by the chairman?

Well none of them will come cheap, and all would certainly strengthen the squad. Wanywama represents a significant risk for the money being quoted (£12 million). Champions League heroics aside, he is coming from a league of a low standard and the risk for a flop from the SPL is high. Having said that, he looks to have huge potential, and a three way battle for the central midfield positions at St. Mary's between Morgan Schneiderlin, Jack Cork and Wanyama is mouthwatering and would certainly put Saints in to the higher echelons of the league.

Banega is the most exciting of the three for me, and would be a shoe-in to start in the central of the three attacking support positions. The money being quoted for him (£8 million) seems a little low, but he has had injury problems and it could prove to be a bargain. Saints lacked a creative spark at times last season and Banega could be the man to ignite in the attacking quartet. It may also give Gaston Ramirez a gentle reminder of his position in the pecking order.

Damiao would be the coup that some have long been expecting from Saints. It is the least likely to happen, that much has to be said. Spurs have been trying to sign him for years and failed, and Napoli are said to be in advanced talks along with Saints. The fee is believed to be in the region of &euros;20 million and while his signing would mean Saints have one of the rising stars of international football, it would also send a comprehensive message to the many who doubt Saints financial clout.

I would suggest it is unlikely Saints will end the summer with all of these players at St. Mary's, but there will of course be other targets that were not mentioned in the press conference, and I, for one, certainly feel reassured that the work going on behind the scenes is focused on bringing a level of quality not often associated with 'little Southampton'. I expect there is still a few more surprises to come.

Keep the faith.