Positional Sense: Attacking support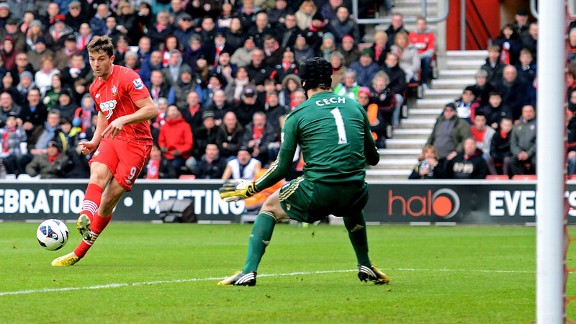 GettyImagesJay Rodriguez took his time to come good for Southampton
The rumour mill keeps on turning, and Saints are linked with more and more players on a daily basis. If I have proved anything with these blog posts it's that Saints pretty much need all round improvement to sustain the level that they seem intent on achieving.

The next area of the pitch to look at is what I like to call 'the support three', more often than not under both Migel Adkins and Mauricio Pochettino Saints employed a 4-2-3-1 formation with three attacking midfielders in support of a lone striker. This, despite protests from fans stuck in the 80's for a return to a traditional 4-4-2, was pretty successful (after a transitional period).

- Saints out of Wanyama chase

On paper, last summer I would have said the support three was potentially Saints strongest area. Adam Lallana, Gaston Ramirez, Jason Puncheon, Guly and Jay Rodriguez to fight for the three spots. Disappointingly, it often flattered to deceive. Lallana seemed to lose his way a little last season and often it felt like he was selected on the basis of his captaincy, rather than his form.

Ramirez came with the hype of being the first 'big money' move by Saints as a statement of intent, but took his time to adapt and though he showed glimpses of genius, sometimes games appeared to pass him by. There is also a question mark of Ramirez' fitness as he never manages a full 90 minutes for club or country.

The much maligned Guly do Prado was clearly seen as a backup option, and while his cameo performances were proficient, a couple of high profile misses kept the crowd firmly on his back.

Jason Puncheon was perhaps the surprise package, and arguably Saints best outlet going forward. Creating a great partnership on the right with Nathaniel Clyne it was frustrating to see the winger often left on the bench when in decent form.

Jay Rodriguez took ages to come good, in fact, I, like many, had written him off as an expensive flop. I was happy to be proved wrong though, and under the guidance of new boss Pochettino, JRod found his mojo again. His performances in the second half of the season were breathtaking at times and he was clearly flourishing under the new regime.

Steven Davis and Emmanuel Mayuka were both used in the support three at times, Davis putting in some great shifts, while the Zambian was given rare chances. Realistically I don't think either will feature heavily next season though.

It did feel like Saints were missing something in the role, and for me it was another pacy winger, someone who can whip crosses in at will. I am confident both Lallana and Ramirez will come good and if Puncheon and JRod can carry over their performances from last season, one additional attacking midfielder/winger will give good squad options for the three places.

Verdict: Strengthen the support position? Yes. Saints are lacking a creative spark out wide and competition for places can kick complacency.