Bookend of bad karma: Saints fixture reaction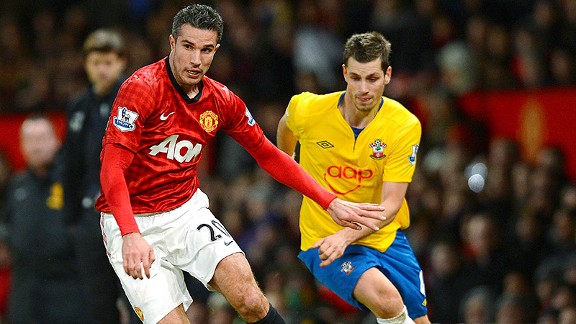 Andrew Yates/AFP/Getty ImagesSouthampton will welcome in Robin van Persie and Manchester United on the final day of the 2013-14 Premier League season.
There is a very attractive piece of symmetry to the Southampton fixtures for the coming 2013-14 season. Thirty-six games are bookended by two stand-out fixtures.

Saints will open the season against West Brom at the Hawthorns, and end it at St. Mary's against the current champions Manchester United.

- Premier League fixtures list

Both of these games represent opportunities to get two proverbial monkeys of their back. West Brom (in both home and away fixtures) last season represent two very disappointing results for Saints last season, outclassed on both occasions by the Baggies and Mauricio Pochettino will want to make a point against the Midlands club this time out.

More importantly though, Saints will face Manchester United at home on 11th May, four days shy of the ninth anniversary of the exact same fixture that ended in a 1-2 defeat for the home side and relegation from the top flight for the first time in 27 years.

It was a day that will live in infamy for Saints fans for the rest of time, and without a positive result against United in over 10 years, it seems to me that this could be the ideal time to set that straight.

Saints are talking big when it comes to their expectations for the coming season, and they have been given a far more favourable start than last season, but the fear factor against the likes of United has to go, especially at home and we saw evidence of that last season.

MoPo will want to build on a solid start to life in the Premier League and has been given the perfect opportunity to do so by the fabled 'fixtures computer'. A decent showing on the opening day, and people might just start to believe that Saints aren't 'all mouth and no trousers'.

The problem with verbally talking up your chances is that everybody outside the club is waiting for you to fail so they can mock your misplaced optimism. Let's not give them the satisfaction.

Keep the Faith.