Saints make first transfer move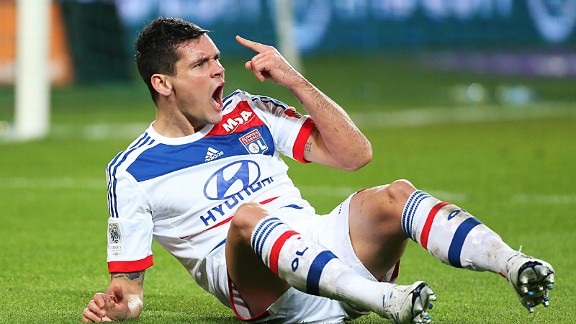 John Berry/Getty ImagesSouthampton made their first new addition of the summer by acquiring Croatian center half Dejan Lovren from Lyon.
I have joked on this blog before that these musings have an uncanny bearing on how Saints go about their business. Yesterday I brought you the latest in my 'Positional Sense' articles -- focusing this time on centre halves -- and came to the conclusion that it was an area that Saints needed to look at with some haste.

Low and behold.... Messrs Cortese and Pochettino have this evening delivered us the signing of Croation international centre half Dejan Lovren!

- Southampton sign Lovren from Lyon

This is delightful news. Lovren has turned the heads of many clubs round Europe (Liverpool and AC Milan were both reportedly interested) with his performances for Dinamo Zagreb, Croatia and latterly Lyon. Having already played in the Champions League, first-class internationals and a winner of championships and cups, Lovren reads like somebody with the experience and ability necessary to add some steal to the defence, while at the same time at a youthful 23, he also fits Saints' tradition of building a team of young players to grow together.

Everything about this move seems very right, including the suggested transfer fee (10 million euros) which looks to represent very good value for money. Saints fans have been clamouring for some transfer news since the moment players left the pitch after the Stoke game, this opening gambit should be very satisfying indeed.

If a player like Lovren can hit the ground running in the Premier League, then Saints may just have secured one of the key strategies early. And with the first personnel change settled, the appetite for the new season is well and truly wetted.

I still find it quite difficult and a little uncomfortable when Saints sign a player of genuine European level talent. It's kind of an odd embarrassment. Saints? Have signed him? Are you sure? There is probably a mistake.

Summer signings like Richard Dryden and Peter Whiston seem a lifetime ago...

Keep the faith.