Positional sense: Centre Half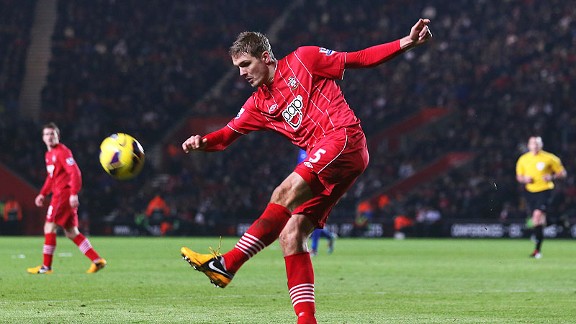 Ian Walton/Getty ImagesA bit unsteady at first, Southampton defender Jos Hooiveld settled in and had a decent Premier League season for Saints.
Tonight it's the turn of the centre halves to be scrutinised as I continue to look at where Saints should think about strengthening their squad this summer.

Saints have long talked about improvement, potential and progression, but I think this area of the pitch could well be holding them back. One of my biggest fears when Saints were promoted was going into a maiden season in the Premier League with centre halves who lacked the experience of the top flight in any of Eurupe's big leagues. You can get away with inexperience in other areas, but at centre half it will come back to haunt you, and that is pretty much what happened.

Saints' defending for the opening stages of the season was diabolical, and hapless centre half play and erratic goalkeeping went hand in hand as Saints struggled to find their feet. Poor Jos Hooiveld, often the target of the blame proportioners, was never far away from conceding a penalty or scoring an own goal. A lot of harsh lessons were learnt from that opening period of the season, some of which may be that players we had grown to love in the lower leagues may have to move on.

In Hooiveld and Jose Fonte, Saints had a pretty good pairing in the Championship, but both looked exposed on the step up at first. Maya Yoshida was brought in off the back of a successful Olympic games for Japan, but again, lacking experience, he looked way off the required standard to start with.

As the season progressed, all three found their feet, and I became quite a fan of Yoshida's, not the prettiest of defenders, but then who really needs pretty defenders? Solid and steady will do me just fine. The performances of Hooiveld grew with every game, and Fonte looked an able deputy when called for. Saints still lacked something there though and no Saints fan ever felt truly confident that these were the defenders to take us to the next level, or more worryingly keep us in the Premier League.

In January the highly rated Norwegian Vegard Forren was brought in under the noses of Liverpool (where he cancelled his trial to sign for Saints) and Everton, bringing with him a baggage containing praise from all corners. Saints fans were excited. Forren didn't play a single minute.

With Dan Seabourne loaned out and now moved on, Aarron Martin seemingly not rated at all and Jack Stephens the great youth hope in defence (but not close to solving the experience issue), Saints are still crying out for some top level personnel.

Saints will be hoping that Forren comes good, perhaps as first choice with Yoshida and at least one other centre half is brought in to provide competition.

Verdict: Strengthen the centre half position? Absolutely. Saints can talk about pushing for Europe all they want, but without the solid foundations of consistent centre halves they will be doomed to struggle.

Keep the faith.