Anti-climax: Saints stumble across the line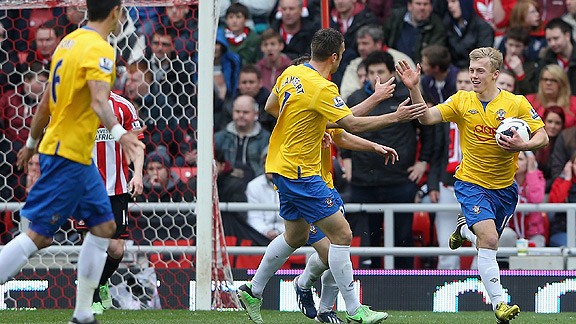 Scott Heavey/Getty ImagesSouthampton were the brighter of the two, but still failed to get all three points as they drew at Sunderland thanks to a late equalizer.
Safety. That was always the name of the game, but as Saints grabbed that last point to survive in a 1-1 draw with Sunderland, there was a distinct air of disappointment.

- Match report: Sunderland 1-1 Southampton

Far too often Saints fans have walked out of stadiums wondering just how they haven't witnessed a victory, and today was no different. To say that Saints were the better side at the Stadium of Light today would be a massive understatement. They were head and shoulders above Sunderland in every department, yet the points were shared, and Saints were losing with 14 minutes to play.

Of course as a Saints fan I should be happy. All we needed was a point to effectively secure Premier League safety and we got it. But after a wave of optimism in recent weeks and talk of top half finishes, the season looks like it will end with a whimper. How Saints managed to drag themselves back into a relegation fight is beyond me, the difference in quality between Saints and Sunderland today showed that it is ludicrous that they are separated by just a point. But there we were.

In fact, the way today's game played out acts as a perfect metaphor for Saints' season in general. It looked pretty, it promised great reward, but at the final whistle the supporters are feeling relieved rather than elated.

Saints were wasteful in front of goal, and Sunderland keeper Simon Mignolet was fantastic, but with 65% possession and 18 shots on goal (8 on target) is a 1-1 draw good enough? Not for me.

Saints seem to have run out of steam in recent weeks, a combination of the intensity of their play and a lack of strength in depth probably the key contributing factors. Rickie Lambert looked anything but his usual clinical self today, jaded and in need of some relief. He has been far too relied upon this season. and his understudies have proved lacking.

Some serious lessons to be learned for next season, and another goal-scorer should be top of MoPo's shopping list (now he can finally have a look at it).

With Saints in complete control there was certainly an air of expectancy among the faithful that it would actually be Sunderland who took the lead. There was little shock among the Saints contingent when Phil Bardsley's strike deflected of Jos Hooiveld (who else?) and past Artur Boruc. This looked to me like confirmation of having to endure a nervous last day,

It shouldn't have been like this, and I lost my composure for a second (at this juncture I would like to apologise to my Twitter followers!). I was certain that there was no way back. Cue Jason Puncheon, a man who, despite forging a fantastic right hand side partnership with Nathaniel Clyne earlier in the season, has been out of favour recently. I have often said Saints had missed his dynamism, but perhaps it was a masterstroke by Pochettino? With there likely to be a big squad overhaul in the summer, send Punch on with something to prove. And prove it he did, with pretty much his first and second touches he forced Mignolet into a save, then buried the rebound. Saints were safe.

A happy ending to a miserable game. Saints again leaving the pitch having outplayed their opponents but without all the points. As I said earlier, it is undoubtedly the story of our season. Pretty, but not overly threatening. Stylish, but without substance. Potential, but still learning. Dominant, but fragile.

But this isn't all doom and gloom. This was the first season back in the Premier League and Saints have survived. That is no mean feat given an opening 10 games that yielded just four points. Then, had you flashed Saints a glimpse of 17th place, they would have killed you for it. Onwards and upwards, a summer for MoPo to really make his mark and build his squad, and a last day that won't be racked with nerves (unless we concede three or four early).

This season has offered some serious lows and some ridiculous highs. All part of being a fan of Southampton, Premier League football club. Same again next season anyone?

Keep the faith.