Crossing the Black Cats' path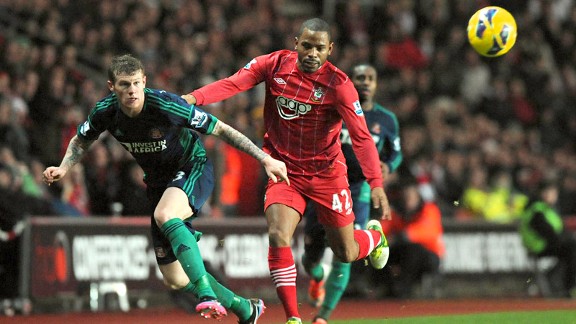 Olly Greenwood/Getty ImagesJason Puncheon and Southampton will try to avenge last December's 1-0 home loss to Sunderland when they travel to the Stadium of Light on Sunday.
Saints make the long trip to the Stadium of Light on Sunday hoping that a positive result will see them safe from the threat of relegation. Unfortunately, their hosts are in the same boat, and so it is likely to be one heck of a scrap!

It is hard to gauge what to expect from the current Sunderland side, as they have not long been taken over by the unpredictable Paolo Di Canio. Many scoffed at their decision to dispense of Martin O'Neill at such a late stage in the season. Not me. I think the chairman probably saved their season, replacing one of the most overrated managers in Premier League history -- a merchant of terrible football -- with an up and coming talent who will provide entertainment both on and off the pitch.

Sunderland have been nothing if not wildly inconsistent since the Italian took over, and that kind of matches his personality; thumping North East rivals Newcastle one minute, and getting torn apart by relegation rivals Villa the next.

So how does MoPo and the on-the-brink of survival Saints beat the Black Cats on Sunday?

Firstly, keep Adam Johnson in check. Sunderland's top scorers in home games, Stephen Fletcher (injured), Stephane Sessagnon and Craig Gardner (suspended) will miss the game leaving Johnson (on three) as the major goal threat. This means a requirement for Saints' left hand side to be resolute in their defensive duties, the result of which could be keeping Sunderland to a zero score.

Secondly, watch Danny Graham. Statistically he may not be much of a threat, but having failed to score in his first 11 Sunderland appearances, that makes him a massive threat to Saints. Players seem to love to open their accounts at new clubs against us. Let's make sure Graham isn't added to the list.

Thirdly, keep the pressure on. Sunderland have very poor passing statistics, meaning that they are liable to mistakes and misplaced passes under pressure. Put the pressing to effect by forcing errors.

Fourthly, take our chances. Sunderland concede on average 14 shots per game at home. It would only take two, possibly even one to be converted to guarantee a positive outcome.

Fifthly, play the same way as at White Hart Lane. Saints were desperately unlucky not to get something or even win that game, and Sunderland won't offer anywhere near the level of threat that Gareth Bale does. Play like that and reap the rewards.

Sixthly, concentrate on your own game. It's going to be nervy for both sets of players, but hopefully the nerves of the home crowd will work in Saints' favour. If Saints play their own game and don't stoop to a scrappy contest, they have every chance of three points.

Keep the faith.