Don't mention relegation...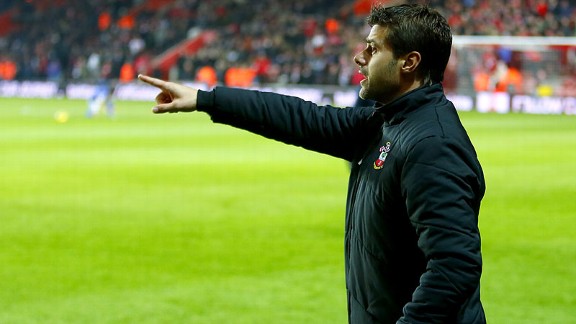 PA PhotosJob not yet done for Mauricio Pochettino's Southampton
....I mentioned it once, but I think I got away with it alright.

So here we are. A few weeks ago this situation seemed impossible, but with two games to play Saints sit just four points above 18th place and relegation back to the Championship. Their form since Christmas would suggest this impossible, but sadly Saints are paying for their terrible start to the season.

It is easy to forget that Southampton had just four points after the opening ten fixtures, having lost the opening four games on the bounce (they would be the first team in Premier League history to survive such a start). That poor introduction to the season coupled with some stuttering performances over the last four games sees them still with a chance at demotion, a veritable disaster.

- Pochettino eyes Champions League

But will it really come to that? Wigan's defeat at home to Swansea on Tuesday night perhaps put an end to it, they need to now get something at Arsenal (they did it last season) to keep Saints in any sort of danger, and that is still reliant on Saints drawing a blank at Sunderland (or at least not matching their result).

So what has to happen for Saints to be relegated? Let's say, in a worst case scenario Saints lose both remaining fixtures and end the season on 39 points. To go down, Wigan would have to get at least four points from their remaining two fixtures (Arsenal away, Villa home), and if they 'only' got four they would need a 12 goal swing in goal difference to send Saints down. A positive result at Sunderland for Saints and Wigan would need to get all six points from the remaining two. A Saints win at Sunderland and they are mathematically safe.

Of course, this doesn't take into account any of the other teams below Saints either. Sunderland, Norwich and Newcastle are all sitting on 38 points. Sunderland have the next best goal difference behind Saints (-12) and will know that a positive result against Saints will put them in a strong position, a win would secure their safety. They travel to Spurs on the final day, so will be looking at the Saints fixture as their chance to save themselves. Norwich have a goal difference of -22. They face West Brom at home this weekend before travelling to Manchester City on the final day, again they will be looking at this weekend to secure their future, should they not better Saints result on Sunday, they would look far more likely to replace Wigan.

Newcastle have a goal difference of -23, they travel to QPR on Sunday before entertaining Arsenal on the final day. A negative result at Loftus Road could leave them feeling extremely uncomfortable on May 19.

With Villa effectively safe, they may take their foot off the gas at Wigan, and that could lead to serious repercussions for those with tougher fixtures. From a Saints point of view, we perhaps have the best two remaining fixtures, and a point from both or a victory in either will seal the deal, but if they come away from the Stadium of Light empty handed and Norwich and Newcastle get something from their games, all eyes will be on the Emirates on Tuesday night.

The last thing Saints will want is to take on Stoke on the final day with the threat of the drop still hanging over them. Here's a crazy idea. Let's just beat Sunderland on Sunday and then we can all relax. It's in their own hands.

Keep the Faith.