Epic Bale - Saints stutter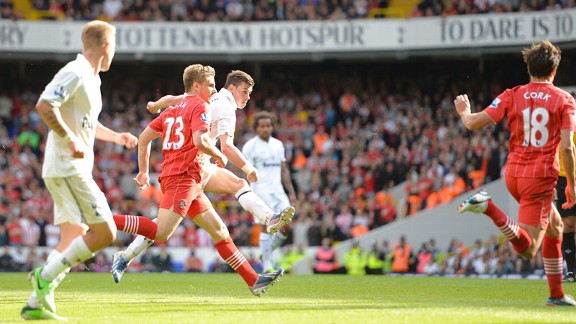 Shaun Botterill/Getty ImagesSouthampton kept Gareth Bale in check for most of the match but could do little to stop another wonder-goal from the Player of the Year.
So I find myself in a hotel room in Qingdao, China. It's 00:30 on Sunday morning. I've just witnessed (sort of) Saints go down to a 1-0 defeat at White Hart Lane and I am laughing to myself at the hopelessness of following your team from distance.

After countless attempts to navigate a way through the strict Chinese internet restrictions and lots of Google searches for bars in the district that might be showing the game, I accepted defeat and the stark reality that I was going to have to rely on hotel bandwidth. It got worse. I couldn't find anywhere on the internet to watch the game, and the radio stations seemed also to be blocked by my Chinese hosts.

- Bale's match-winner recruits another disciple
- Brewin: Man-of-moment Bale delivers on cue

It looked like I was heading for text updates and not even Twitter in support (banned in China). I was still frantically looking for a source to watch the game while keeping an eye on the simple one-liners that are delivered every minute or so by your standard internet text service. I had no idea how the game was going, just that it was 0-0 and snippets of action told me part of the story. I was reliably informed that Assou-Ekotto tried a 'ridiculous effort from long range', Luke Shaw was 'having an outstanding campaign', Jermain Defoe was 'full of running' and Guly got a 'good cross in from the right'. Wait a minute. Guly started?

Then, in the 36th minute, I found a live source and I was able to see what was happening for myself. I was greeted by Saints looking pretty sharp, and Spurs a little sluggish. Good news, but with the scores still level and the three time player of the year in the Spurs side, I was pessimistic as to how long Artur Boruc's sheet may remain clean.

I don't know who the commentator was but his constant referral to referee Mark Clattenburg as just 'Clattenburg' was annoying me. Perhaps the respect campaign doesn't apply to retired footballers come ropey pundit? Having got over that and realising that Saints were playing some decent football, I started to experience a wave of enthusiasm of unprecedented levels when alone in a Chinese hotel room close to midnight watching a dodgy stream of a Saints match.

As the halftime whistle was blown I was pretty content. Then disaster struck. A complete breakdown of my internet connection. The problem with sharing your connection with the hundreds of other hotel guests is that they show little consideration for a man's football needs. It was probably someone on a business trip doing something as trivial as sending a work based e-mail with a large attachment. I'll never know, but anyone in a suit at breakfast tomorrow will be getting the evil eye from me.

As the kick-off of the second half rapidly approached, I panicked. No internet meant no updates whatsoever, not even the text. I have never felt more cut off from civilisation. It took me a good 15 minutes to establish a connection again, and when I did, it looked like it had been a complete role reversal, Spurs starting to look sharp, and Saints like my internet bandwidth, sluggish.

Watching the last half an hour was a little but like watching a slideshow of stills. Some of them were making me extremely nervous, especially those in which Artur Boruc was frozen in mid-air, the ball already past him and about to be attacked. Others looked like magic eye pictures and at one point Gareth Bale looked like an extra from Avatar.

Sometimes (in between another guest's e-mails) my bandwidth would allow me to watch a few seconds, and of course, in the 86th minute it did just that. The three -time 2013 footballer of the year and graduate of the Saints Academy doing what he does best, producing something from nothing and winning the game for Spurs.

As I sit here now looking at the statistical breakdown of the game, it would appear that Saints can feel hard done by from the result, but it was always likely to be Bale who had the final say. How did the game pan out? Don't ask me, but Saints now have a crucial trip to Sunderland where they need to find a result to ensure the last day against Stoke isn't a nervy one.

Keep the Faith.