Saints brought back to Earth with a bounce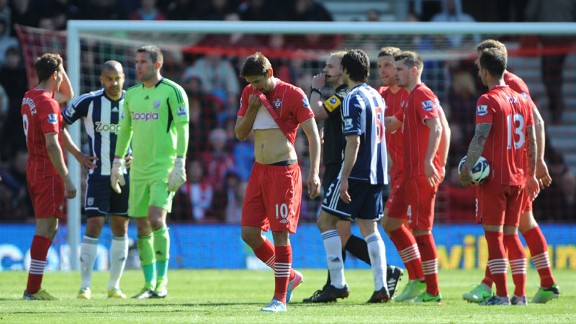 PA PhotosGaston Ramirez leaves the field after being shown a red card
Saints will be wondering exactly want went wrong in their 3-0 home defeat by West Bromwich Albion on Saturday afternoon. After a six-match unbeaten run, the home side would have been looking at a tie against the out of form Baggies as both a good chance to make their Premier League future official and get some revenge for the thoroughly one-sided reverse earlier in the season.

They did nothing of the sort. In short, Saints were awful, lacking in ideas, lacking in composure and were helpless as their opponents ran riot. In fact, it was the worst Saints have played this season since that November defeat at the Hawthorns. Everything Saints have drawn plaudits for since Mauricio Pochettino took over deserted them this afternoon as they were schooled by their more industrious, and desiring opposition.

- Clarke: Cards should not mask win

Saints have prided themselves this season on the performances of their midfield pairing Cork and Schneiderlin, who have bullied more experienced opponents on a weekly basis, but it was they who were on the end of the bullying on Saturday as they looked lost against the relentless pushing of WBA. Whether that had a knock on effect through the rest of the side is debatable, but Saints' ever-improving back four have never looked more hapless or vulnerable.

When the Baggies took the lead as early as the sixth minute, it was effectively game over, and in hindsight the Saints supporters will have wished it was. As West Brom poured forward they looked like they would score with every attack, only Artur Boruc earning his corn with some fine saves. In comparison, Saints forays into the opposition half were too often brought to a halt by a misplaced pass or being caught in possession.

That was essentially the 'tail of the tape' as statistically the game reads like a dominant home performance, Saints ending the game with 68% possession and an 84% pass completion rate, sadly nothing was coming on the end of it, resolute West Brom defending coupled with poor crossing and decision making meant Saints rarely looked like a serious threat.

Saints did manage 17 shots, but the fact that only three found the target speaks volumes, West Brom had 10 shots, eight of which were heading to goal.

A lot of talk will be about the referee, who was making his Premier League debut, and though his general performance was often baffling, Rickie Lambert seemingly penalised every time he jumped for the ball, the three 'big' decisions he had to make were all correct.

Saints have been talking about winning the Fair Play league, having had the least amount of cards in the Premier League this season, but that can now be kissed goodbye due to two ludicrous decisions from Gaston Ramirez and Danny Fox. Ramirez, only on at half time, was presumably introduced to make an attacking impact. Well he certainly did that, throwing his elbow into Shane Long's face and giving the referee absolutely no choice but to dismiss him. If that decision was laughable from Ramirez, the one that followed from Fortune was equally incredible, running over to push the Uruguayan in the face and ensure the numbers stayed even.

With the game already lost, Saints looked to have hit the self-destruct button late on, with the ball in the West Brom area, and Steven Reid racing to clear it from danger Danny Fox's decision to go in two footed and off the ground was baffling. A man who already has a strained reputation with the fans put the bitter icing on the hideously dry cake with his marching orders.

West Brom were great value for their victory and a three-goal deficit might even flatter Saints. All this talk of Europe and pushing on for the top eight next season has to stop now. This season isn't over, Southampton aren't mathematically safe and Saturday was a stark reminder that this team isn't the finished product just yet.

We could put it down to an off day, and perhaps it was, but the manner in which the players responded to adversity was poor and barring Boruc and Nathaniel Clyne I'm not sure any of them could say they played their best. Complacency? Perhaps. Naivety? Could be. Whatever it is, they need to get this season's business done and know that was not an acceptable performance at home.

Keep the faith.