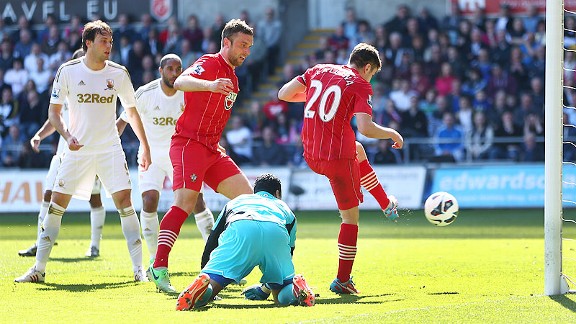 Michael Steele/Getty ImagesAdam Lallana's goal was disallowed due to a foul on Swansea goalkeeper Michel Vorm.
Saints played out a goalless draw with Swansea at the Liberty Stadium this afternoon, but no one could accuse either side of settling for a point.

In what was very much a proverbial 'game of two halves', both sides had opportunities to take the victory, and both sides had spells where they frustrated their opponents. As it happens, a point is likely the fairest result. Both sides had spells of dominance, both sides had moments of brilliance, and both sides had their goalkeepers to thank at times. This was a great game of football. Both clubs have been getting plaudits for their playing style this season and the worry might have been that the meeting might have been a letdown, but it certainly wasn't that.

- Match report: Swansea 0-0 Southampton

That's not to say that either team will be happy that they played their best. Saints in particular looked sloppy in possession, something that they usually pride themselves on, and for long periods of the game looked like they might struggle to break Swansea down. The hosts for large spells had complete control of the football, but uncharacteristically Michu and company didn't look like they had any end product to use it with.

The first half was a frustrating experience for the travelling Saints fans, as misplaced passes and dithering on the ball meant that it was an all too easy time for Swansea. With Saints giving them the ball, Swansea didn't even have to work hard to get it. Ex-Saints man Nathan Dyer looked the dangerman, giving Danny Fox a torrid time down the right. For the opening half hour it was one way traffic, Swansea overrunning their opponents with wave after wave of free-flowing football. Saints were getting a lesson in ball retention and undoubtedly being 'out-pretty-footballed'. The apprentice was getting a thrashing from the master.

Strangely though, it was Saints who arguably created the best chances. Rickie Lambert forced a brilliant save from Michel Vorm from a free kick, and Adam Lallana actually had the ball in the net. In a succession of decisions for Mark Halsey, firstly he disallowed Lallana's goal. It would be good to know if he disallowed it for handball (Lallana's arm looked like it might have brushed the ball) or a foul on the keeper. If it was the latter, then it is a poor decision. If it was the former, then I guess it was accidental and thus the referee can't give it. Soon after that decision, Lambert went down in the box and appealed for a penalty. Halsey said 'No' but the Saints top scorer was furious and believed he was pulled to the deck by the centre half.

The second half took on the form of a complete role reversal. Suddenly it was Saints who looked comfortable on the ball and the hosts who were sloppy in possession. As Saints got their composure they looked to take advantage, but in the second half it was Swansea who started to forge better chances.

Artur Boruc saved well from Jonathan de Guzman when one on one, (you will struggle to find a keeper better in that situation in the league) and Michael Laudrup's side should have taken the lead when Lallana and Jos Hooiveld fell asleep at the back. Lallana's poor back pass and Hooiveld's non-reaction saw Dyer in on goal, but luckily Maya Yoshida was still awake, clearing off the line with Boruc stranded.

Amazingly the game ended goalless, with a combined 23 shots on goal, seven on target. It was perhaps an undeserved clean sheet for the Saints back four who had their shakiest game in a long time. Both managers will likely be content with the avoidance of defeat as they both look forward to a comfortable run in safety.

It was certainly Saints' sloppiest performance for some time, and MoPo will have some feedback for his players I'm sure. But it is nice to know that we have a team with enough resolve to grind points out when under the cosh. Six games unbeaten.

Keep the faith.