Where there's a will, there's a Wales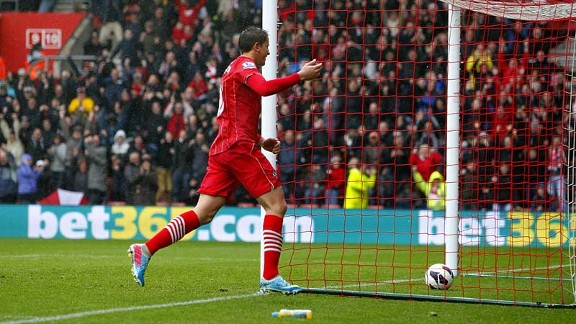 PA PhotosA win in Wales will take Southampton level with Swansea on points
Saints travel to Swansea on Saturday knowing that they will likely be facing off against two Welsh clubs in the Premier League next season (three if you count Gareth Bale), with Cardiff City having secured promotion this week.

It will only be the sixth time they have taken on the Swans in the top flight (they have never played Cardiff in the top division) and only the eighth time they have faced them in 48 years.

Visits up the M4 and across the Severn Bridge have primarily been to Cardiff in recent history for Saints, but just how do the Saints fare 'Yng Nghymru'? Not very well...

In fact, Saints haven't taken a league point in Wales since 1974 (a 2-2 draw with the Bluebirds) and haven't won a league game since 1965, beating Cardiff 5-3 at Ninian Park. You have to go back another three years for a league victory in Swansea, Saints 1-0 winners in January 1962 in a second division fixture.

Saints have had a more recent victory in cup competition, beating Cardiff 3-0 in the League Cup campaign of 1995, but it is actually a very poor record across the border. Their combined record travelling to Swansea and Cardiff reads as follows: Played - 51, Wins - 10, Draws - 13, Defeats - 28. Saints are yet to play Gareth Bale away from home in any competition.

So, the current Saints squad have the chance to put some records to bed on Saturday, with the club long overdue a league victory in Wales, but more importantly the opportunity to go level on points with the Swans. This shows just how close the Premier League is at the moment, with the Swans talked about as high flyers while Saints are still considered in a relegation battle. A Saints win on Saturday and only goal difference would separate them.

With MoPo likely to have a full squad to choose from, there should be nothing to fear of Swansea. A good team, no doubt, and one that plays with a similar panache to Saints, but with the visitors unbeaten in five (6th in the form table) and Swansea with no win in four (17th in the form table), it is a good time for Saints to be heading to the Liberty Stadium.

It very much feels like a time Saints should be looking at those above them and wondering just how far they can go this season. No better place to start than on Saturday.

Keep the faith.