Saints' chance to Hammer home advantage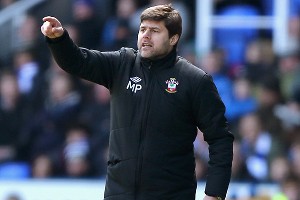 Ian Walton/Getty ImagesSouthampton manager Mauricio Pochettino will have his tactical skill tested by West Ham's Sam Allardyce on Saturday.
If many people outside Southampton are starting to sit up and take notice of Saints, and the impressive showings of the side under Mauricio Pochettino, it will likely have them looking at Saturday's fixture with West Ham as a likely home win.

But this might be perhaps MoPo's most intriguing and toughest fixture of recent weeks. What has been clear is that, should the Argentine have any tactical weaknesses, they might come in the form of tackling the, shall we say traditionally English interpretations of the 'beautiful' game.

- Thorne: Hammers and Saints on an even keel

I may, of course, be doing Big Sam and the Hammers a disservice -- they are only the sixth in 'average long balls per game' table -- but there is no doubting that Allardyce will mix it if he has too, and having done his homework may see this as the ideal time to release that particular bombshell, pardon the pun.

It strikes me then that this is the ideal time to banish that particular demon for Pochettino. They said he struggles against the teams at the bottom, but last week's comfortable despatch of Reading got that monkey off his back and the visit of East London's finest gives him the opportunity to rid another.

He has had the preparation. Losses to Newcastle and QPR came courtesy of some textbook 'kick-and-rush' and a healthy dose of 'smash-and-grab', so will the Saints boss be caught out a third time? You would like to think not.

A fourth win on the bounce would be quite some feat too, and will pretty much seal Premier League football at St. Mary's next season and could propel the league's worst starters to the brink of an unlikely top 10 finish. So how do Saints beat West Ham on Saturday?

Firstly, hit them at pace on the break. The Hammers back line looks susceptible to pace and trickery. A flowing Adam Lallana, Gaston Ramirez et al could open up the on-fire Jay Rodriguez for some great opportunities on goal.

Secondly, cut off the wingers. This is where Saints may want to change their shape a little, perhaps not encouraging Nathaniel Clyne and Luke Shaw to stay forward so much and keep a check on Matt Jarvis etc. out wide. The Hammers love a cross, and Andy Carroll will punish you if you let them feed him them. Cut off the supply.

Thirdly, hope Matthew Taylor plays. This has no major logic behind it, I just really don't rate him. He is a Championship player who has found himself at the wrong party, surrounded by people talking a language he doesn't understand. He is also easily riled by the crowd.

Fourthly, hope Allardyce lines them up in any other formation than 4-2-3-1. They've won just two of 11 Premier League fixture where they lined up differently (All the others ended in defeat).

Fifthly, and always the most important, is to play our game, and not be dragged into a scrappy encounter as per the opening half an hour at Reading. I am confident Saints have a better team than West Ham, so keeping composure will result in a positive outcome.

Keep the faith.