Jay of light: Enter Rodriguez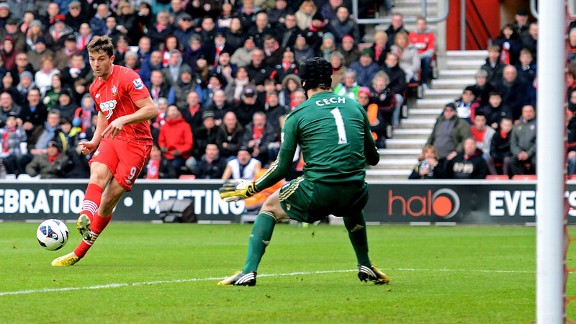 GettyImagesJay Rodriguez has become a vital part of the Saints' setup since the exit of Nigel Adkins
You will struggle to find a player with a stranger name and accent combination than Saints' Jay Rodriguez. His name conjures up the image of one of the many foreign imports brought over from South America or Spain, but when he opens his mouth, his Lancashire origins are distinct.

Signed from Burnley for £7 million in the summer, 'J Rod' as he is affectionately known, struggled to make an impact in the Premier League at first, and under Nigel Adkins, he was restricted to being a bit part player, unable to force Rickie Lambert out of the lone forward role, and looking lacklustre when played in a support role or out wide.

Recently though, Rodriguez has come to the fore as a key player for the Saints, showing that though his origins may be from the North West of England, his playing style, like his name, are far more Barcelona than they are Blackburn.

I don't mind admitting that I have been both pleasantly surprised and massively proved wrong by Rodriguez' transformation. I thought Saints had made what is a fairly common transfer mistake and paid out big money for someone who could cut it in the Championship, but was going to fail to make the step up. How wrong I was.

Under Adkins, Rodriguez was playing an average of 48 minutes per game, and only the full 90 minutes just four times in 19 appearances. Obviously it is difficult for anyone to make the impact they might want to when not given the time on the ball, and with perhaps his rhythm constantly interrupted, Rodriguez managed just two goals and one assist, his poor finishing and missed chances causing despair amongst the Saints support.

In contrast, under new manager Mauricio Pochettino, Rodriguez has played an average of 77 minutes per game, and the full complement of 90 minutes in six of nine appearances. His game and his confidence have clearly benefited as he has racked up three goals and three assists, arguably making him the club's key player of recent weeks.

When 'MoPo' joined the club, he spoke of integrating the clubs younger players and trusting them to deliver. This is what he has done with Rodriguez, and it is paying dividends. It is easy to see why he likes the forward too, Rodriguez has a dogged determination and defends from the front admirably, ideal for Pochettino's high pressing style. But that doesn't make him all substance and no style. Very much a part of the way Saints neatly move the ball around up top (see his goal from Saturday as an example), J Rod is displaying all the technical traits of a top footballer.

A lot will come down to belief too, when you are a striker and you aren't scoring goals, life must be difficult. But with his name now being a regular on the teamsheet, the goals have followed for Rodriguez and his link up play in the final third reeks of someone enjoying themselves. As he put it himself after the Chelsea game: 'He (MoPo) gives you belief that you should be on the pitch because he's played me and given me a chance.'

At 23, Rodriguez fits right into the mould of 'The Southampton Way'. Young, technically gifted and English. Along with Lallana, Shaw, Clyne, Cork, Ward-Prowse, Schneiderlin (his Frenchness excused, he's been here years) and many others on their way through, Saints have the makings of a very good team if they can keep them all together. The future is almost unbelievably bright, and Rodriguez looks very much a part of that.

Keep the faith.