Relentless Saints give Chelsea the Blues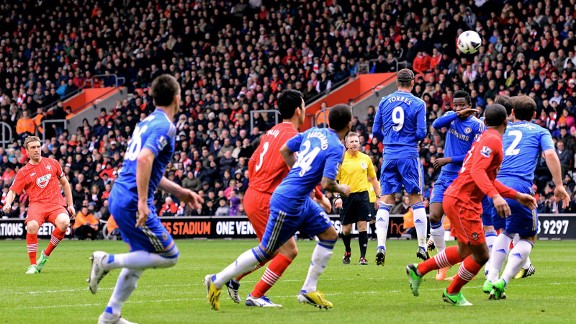 GettyImagesSouthampton's Rickie Lambert curls in a free-kick against Chelsea
Southampton rose to twelfth in the Premier League on Saturday evening after a thoroughly deserved 2-1 victory over the European champions, Chelsea.

No doubt the media and the Blues fans will say this victory was a result of their 'off day' rather than Saints own dominance, but make no mistake, the home side were fantastic, their relentless pursuit of Chelsea's attacking outlets leaving manager Rafa Benitez with no answers.

- Lythell: Benitez makes priorities clear in Saints defeat
- Benitez: Still a long road to travel

All of the goals came in the first half and it was in the opening period that Saints really showed what they are made of. Chelsea always looked second best, as Saints pushed them further and further back, full-backs Nathaniel Clyne and Luke Shaw forcing errors while Jack Cork and Morgan Schneiderlin mopped them up.

Recently there has been a lot of talk of how good Schneiderlin has been, but on Saturday he was outshone by his midfield partner Cork. Coincidentally, Cork started his career at Stamford Bridge, and while Chelsea spent countless millions on foreigners to play in midfield, the Englishman was constantly sent on loan and eventually sold to Saints. A few people in the Chelsea dugout may have watched Cork run the show at St Mary's and sighed.

Chelsea were toothless, and Fernando Torres, wearing a mask ,cut a hapless figure, to compare him to the Lone Ranger would not do any justice to the level of isolation he had, wandering around aimlessly. If you give a good striker service he will score goals, and Torres got none. Incidentally, the one chance he did get he put away, but was ruled offside.

When Jay Rodriguez, a player who with every game shines even brighter, put Saints in front, it was no more than they deserved and it should have been game, set and match at that point. But Saints don't like to do things the easy way, and leaving John Terry completely unmarked at a corner was only ever going to end one way.

Saints were not put off though, and just two minutes later they restored their lead. Rickie Lambert hitting an absolute peach of a freekick past Petr Cech at full stretch. With St Mary's rocking, it looked for a while like Saints were going to put Chelsea to the sword, but no more goals were to come in the second half.

The second period was a little more even, though in truth Chelsea looked like they would need all night to find an equaliser. Saints rode their luck at times, often leaving themselves exposed on the flanks, but with Maya Yoshida and Jos Hooiveld looking solid, and sub keeper Kelvin Davis (on at half time in place of Artur Boruc) tipping Chelsea's best effort onto the crossbar, it never looked like being their day.

Saints had chances to put the game beyond the visitors, but several times, with the Blues' back four carved open the ball went across their open goalmouth with no one available to finish it.

Most of Chelsea's good work came from Victor Moses, who looked frustrated with his team-mates as they continuously wasted his hard work. In stark contrast, every time Saints poured forward the football was clean, neat and fruitful. It sounds bizarre that the newly promoted side were knocking the ball around like world beaters, while the European champions were trying to soak up the pressure and counter, their forwards living off scraps.

The visitor's afternoon was perhaps summed up when Frank Lampard stepped up to hit a free-kick from the exact same position as Lambert had given Saints the lead. The England man sent his sailing over the bar.

Saints move up to twelfth in the table, but still only four points off the drop zone. There is still some hard work to do, but this team doesn't just look like potential survivors, but also like a team that are improving every week.

Keep the faith.