Southampton's Young Lions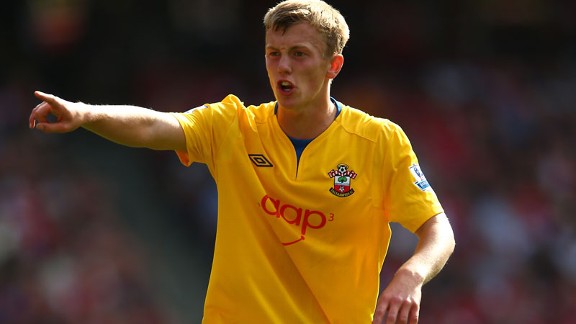 GettyImagesJames Ward-Prowse has broken into the national team set-up
In my last post I had a little rant about Roy Hodgson and his sadly predictable continuation of the usual FA policy of picking players based on reputation and the club they play for over form.

If Mr. Hodgson seems blind to the talent being brought through at St. Mary's though, two other England coaches certainly aren't.

Funnily enough they come in the form of former Portsmouth player Noel Blake, and his assistant at the England Under 19's, former Portsmouth manager Tony Adams. They picked their side on Thursday night to include two Southampton youngsters. Midfielder James Ward-Prowse was selected to captain the side for the first time, while utility player Callum Chambers was started at right back (his debut at this level).

In an age where clubs youth players come from all over the country, Europe and in many cases the world, it is always nice when local lads make the grade and as an added bonus, both Ward-Prowse and Chambers aren't just products of Saints Academy but also, Hampshire lads too, Ward-Prowse from Portsmouth (but we forgive him) and Chambers from Petersfield.

They took to the field against their Turkish counterparts in treacherous conditions, and it always looked like a tough game but with a one to one on captaincy from Tony Adams fresh in his mind, Saints boy Ward-Prowse belted out the national anthem with his team mates and then led them to victory.

In what was quite a scrappy game given the conditions, the football was never likely to be pretty and England scored the only goal with a spectacular albeit a little fortunate strike. And it came from Saints boy Callum Chambers. Bursting up the right hand side from his own half, Chambers skinned the Turkish left back and took the ball to the byline and chipped in a low cross. Whether the conditions played a part it was just bad goalkeeping is debatable but the cross fooled everybody and beat the Turkish number one at his near post.

This was a victory made in Hampshire, moulded by Southampton FC and finished in Telford. Everyone knows that the future is bright within the youth ranks at Southampton, and with Ward-Prowse already racking up 16 Premier League appearances, and Chambers widely tipped to be one of the next to make the step up (he has a first team squad number, and played a part in the Carling Cup) the benefits of having several players who have played together since they were small kids could be crucial.

Let's hope when they come of age and are playing regularly in the Premier League for Saints, the England first team coach is as open minded as his U19 counterparts and doesn't ignore them in favour of ageing 'big club' players at the back end of their careers.

England needs new blood. Southampton might just be the place to look.

Keep the faith.