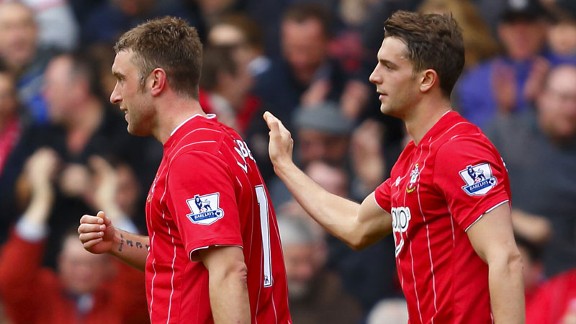 GettyImagesRickie Lambert has scored more goals than any other Englishman in the Premier League this season
I saw an interesting stat yesterday that got me thinking. Of Saints' 42 Premier League goals, 25 of them have been scored by Englishmen. You would think that in the English Premier League this would be common, but Saints actually top that particular table. Liverpool are a close second with 22 of 57 goals and West Ham are third with 20 of 32.

So why are Saints' English players being consistently overlooked by the FA and national team coach Roy Hodgson?

Of course this is written with a fair amount of bias, but years ago when Matt Le Tissier and later James Beattie were in great form for Saints and overlooked, fans questioned that there might be a big club bias at the FA. Now in 2013, you might be forgiven for looking back on that as nonsense, but with several Englishmen performing admirably for Saints, and in positions where England look weak, it begs the question, is the badge on their shirt a hindrance to them?

I don't want to bang on about Rickie Lambert. It isn't only Saints fans that find it bemusing that a man who leads the Premier League top scorers chart from an English point of view with 13 goals (Rooney - 12, Walcott -11, Defoe - 10, Sturridge -5, Welbeck - 1) isn't getting the nod. Many will say that it is because he is 31 and doesn't represent the future of English football, and that would be a fair point, were Mr. Hodgson not going back to the drawing board with 34-year-old Rio Ferdinand at centre-half (and that has worked out well hasn't it Roy!). Not to mention the other six squad members over 30, and Leon Osman getting his first cap at 31.

It was nice to see the England manager at St. Mary's on Saturday and Hodgson, like you and I, witnessed a highly impressive Southampton team performance, fuelled by the hard work and talent of several young Englishmen. Adam Lallana (who admittedly I have said hasn't quite hit his best form yet this season) put in a stunning display terrorising Glen Johnson (England's right-back) and when Aaron Lennon pulled out of the squad on Sunday I found myself convinced Adam, having been a replacement last year, would get the shout. No dice. Hodgson decided to not replace the Spurs winger in the squad. An interesting choice given that he did replace both defenders who pulled out.

Talking of right-backs, this is a position where England have been at their weakest for years. It is the only explanation as to how such a mediocre defender as Johnson has gained a remarkable 45 caps. He was at sixes and sevens dealing with Lallana and Shaw on Saturday and though he offers a decent attacking input his defensive qualities have always been questionable. In contrast, playing at right-back for Saints was Englishman Nathaniel Clyne. A player who also offers a decent attacking threat with one goal and three assists to his name (Johnson has one goal and four assists) but also looks defensively sound. Am I saying that Clyne should be first choice for England right now? No, not necessarily - but in an area that is lacking options he can't be far off.

Much has been made of Frenchman Morgan Schneiderlin's input in the engine room at St. Mary's, but how many of his performances could have been so effervescent without the steady and reliable partnership with young Englishman Jack Cork. Cork largely goes unnoticed. Why? Because he barely ever puts a foot wrong. He doesn't score goals, but he is at the centre of everything Saints do well, providing a consistent link between the back four and the attack. Interestingly a player who plays a similar role to Cork, Scott Parker (at 32, England's future?) has been selected for the squad. Why is this interesting? Because Parker has been terrible this season. Described by fans of his own club Spurs on a radio show last night as "past it", "way off the pace" and "absolutely awful". Both players have an 83% pass completion rate, though Cork averages more than 10 more passes per game; they both average two successful tackles per game, but Cork averages more interceptions and less fouls.

Hodgson couldn't fail to notice (actually perhaps he could?) the performance of 17-year-old left-back Luke Shaw on Saturday. Another accomplished showing in both defence and attack, this kid has got everything. I have no doubt in my mind that he is a matter of months away from full international recognition and is the suitable heir to Ashley Cole's crown. This would of course be harsh on Leighton Baines, who I rate highly, but Shaw is already a better player. Let's hope he doesn't have to move on to be appreciated.

The England team doesn't seem to have the relationship it used to have with the fans. People seem far less concerned with how the England team are doing, and I think that is much to do with the continued selection of those who are being recognised on name not form. I thought this would change under Hodgson, a manager who hasn't always been at the top himself. Sadly it looks like I was wrong, and nothing has changed at all.

I'm not saying that all these Saints players should definitely be in the squad, I am simply proposing that they are as good as, if not better a lot of those that are. Tell me they are inexperienced, fine, but don't tell me they aren't good enough. Exactly how good are that England team anyway?

At Saints we play football the right way, and we bring our players through the youth system and into the first team. It has paid dividends for us, both financially and from an on-the-pitch perspective. Some won't agree with me, and would rather the Saints players protected from international duty - I see their point, though it is a little selfish. I like to think that international recognition is an accolade for Southampton and its progress too, though, especially when it comes to those that were nurtured and produced by the club.

Sadly, as highlighted by the Ferdinand fiasco, the top modern footballers treat England caps like a necessity rather than an honour. I wonder how Rickie Lambert and the countless others who are regularly overlooked felt at Rio's nonsense call up and withdrawal?

Am I saying the inclusion of some of Saints' English players would suddenly make the England team world beaters? No. Am I saying I wouldn't swap Shaw, Clyne, Cork, Lallana and Lambert for Baines, Johnson, Parker, Osman and Welbeck? You bet your life I am.

Keep the faith.