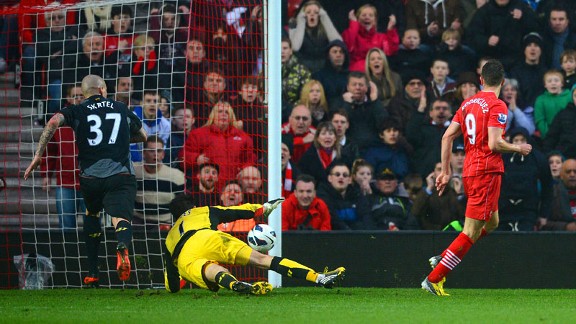 Mike Hewitt/Getty ImagesJay Rodriguez's 80th minute goal capped off Southampton's emphatic 3-1 win over Liverpool.
I have a confession to make. I approached Saints game with Liverpool on Saturday afternoon in negative fashion. I did not see a 3-1 home victory coming. Anything but, in fact.

- Walsh: Liverpool failing to learn from mistakes
- Rodgers rues bad day for Liverpool

Liverpool have been in decent form of late and Saints have struggled. In their last three games Saints have created chances, but not put them away, finding the more direct style of their opponents difficult to counter and have walked away with just one point from nine. Despite the suggestion that Saints' high-energy pressing game would be more valuable against Liverpool's possession game, I felt perhaps Saints had played themselves back into the relegation battle and this would be another day of misery.

On announcement of the teams, my fears got worse. The selection of Jos Hooiveld to face off against the mobility and trickery of Luis Suarez and Daniel Sturridge had penalty written all over it. My fears though, like my negativity, were unfounded. Saints never looked in danger in this game. They were comfortable victors and the margin could have been four or five.

I said in my build up that the key to silencing Suarez, et al. was pressure, frustration and out-possessing them. Saints did that and did it well. Finishing the game with 58% possession is the key statistic, but couple that with Saints' 17 shots (12 on target) in comparison to Liverpool's eight (six on target,) and you can see both how well Saints controlled the game and how much Brad Jones deserves some credit for keeping the score down.

Saints could have won this by five or six. That is no exaggeration. They have been guilty of wasting chances in their last few games, and today was actually no exception. Lallana, in particular, should have got on the scoresheet. Crucially, though, they did take some chances and when Morgan Schneiderlin opened the scoring on five minutes, Saints were effectively home and dry. Usually Saints struggle to hold a lead, but today there was no answer from Liverpool.

At the risk of blowing my own trumpet, as I said in my preview, Saints needed to work the left hand side, and it was unsurprising to see 42% of their attacking play go at Glen Johnson; two of Saints' three goals following attacks at that side.

There will have been no one happier than Rickie Lambert when he netted his 13th Premier League goal against his boyhood club via a deflected free kick that effectively settled the tie. All Saints had to do at this point was hold on. And with Jack Cork and Schneiderlin (man of the match again?) dominating Steven Gerrard and Joe Allen, this looked, for once, achievable. Phillipe Coutinho (Of course he did. Again. See preview) scored on the stroke of halftime and those seeds of doubts started to creep in, but it turned out to be just a consolation as Liverpool failed to find a way through Artur Boruc in the second half. The tie was officially settled when the ever improving Jay Rodriguez found the net on 80 minutes and St. Mary's breathed a collective sigh of relief.

Make no mistake. This was a very good performance and result, and it should be proof once again that Mauricio Pochettino knows how to beat teams who play 'football'. Now he needs to adapt to England and find a way to beat teams that don't and Saints will be fine. In fact, they might well be better than fine.

Keep the faith (this is aimed at me more than anyone today).