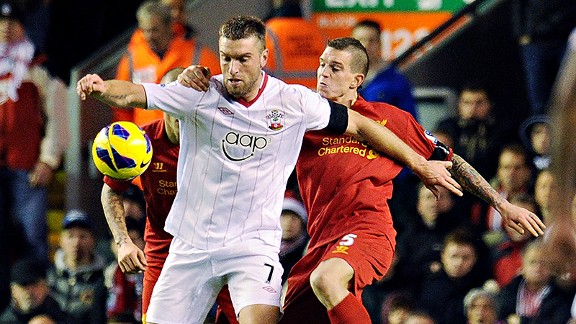 Andrew Powell/Getty ImagesRickie Lambert, front, and Southampton will look to fend off Daniel Agger and Liverpool when the Reds come visiting this weekend.
Statistically, the numbers are good for Saints when it comes to hosting mighty Liverpool. Much like their fierce rivals Manchester United, their forays to the South Coast have not been particularly fruitful.

- Southampton hit by FA charge

In fact, Liverpool haven't won at Southampton in over 10 years (Granted, there has been a seven year hiatus), but discounting the time gap, the Reds have won just twice in their last eight visits. This is largely irrelevant of course, both teams have had considerable makeovers over the course of the last 10 years, but football has a habit of sticking to its mystical coincidences.

The last time Liverpool came to St. Mary's was on the 22nd January 2005. David Prutton and Peter Crouch wrapped the points up for Saints in the opening 25 minutes, sealing a 2-0 victory in what was one of the few highlight results of the Harry Redknapp era at Saints, beating fifth placed Liverpool. Sadly, it was a one off.

So how does that compare to present day? How do Saints turn themselves around from a poor three games and beat Liverpool?

Liverpool are consistently inconsistent, especially on the road. They have a symmetrical record in away league games this season, won four, drawn six, lost four. Would Saints take a draw to keep that even? I would say so.

It could be the ideal game for Saints to impose their pressing style. Liverpool's game is all about possession (they average 57%, the third best in the league), not letting them have the ball and forcing individual errors could be key to frustrating them. Couple this with them being the fifth most aggressive side on the road this season (29 yellow, one red card) and frustration is certainly the name of the game.

This may seem obvious, but don't let Luis Suarez play. The Uruguayan is having a blinding season, and though the term 'One man team' is often ridiculous, Liverpool will struggle if he doesn't tick. He is also a prime target to frustrate; his questionable temper and moral outlook could easily see him sent off with the right treatment. I'm not saying cheat; I'm saying push the right buttons.

Attack Glen Johnson. Great going forward, can't defend for toffee. If Adam Lallana and Luke Shaw combine well on the left, Johnson will struggle. Of that I am sure. Concentrate play down that side and put pressure on him, he will crack at some point.

Hope Daniel Sturridge doesn't play. Liverpool have lost just once (away at Old Trafford) with Sturridge in the side. He has been arguably more important to Liverpool than Suarez since he signed, proving a lot of doubters wrong and has scored five Premier League goals in six appearances.

Hope Philippe Coutinho doesn't play. Saints tried to sign him; therefore he will inevitably score if he plays. It's Saints law.

Hope Jonjo Shelvey does play. In Shelvey's last eight Premier League appearances, Liverpool have won just three times, losing four times.

Never forget Steven Gerrard. Another obvious one, but if everyone focuses on Suarez and Sturridge, Gerrard has the annoying habit of hitting a screamer from nowhere to win games.

So there we have it. Easy. Keep the faith.