Frustration for Saints at Norwich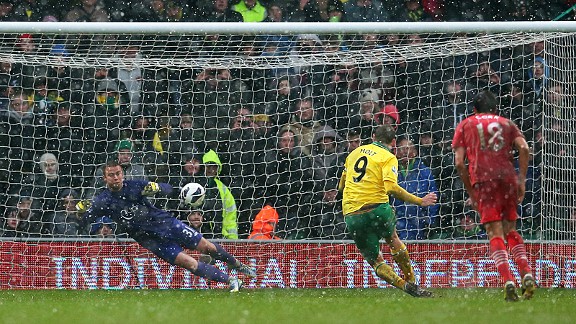 GettyImagesArtur Boruc saves Grant Holt's 90th minute penalty to preserve a 0-0 draw for Southampton at Norwich
Yesterday felt scarily usual for Saints fans, as they watched their side play out a goalless draw with Norwich City. Saints were far the better team, and created far more chances, but came away with just one point. And it could have been none, had it not been for the last minute heroics of keeper Artur Boruc.

It certainly felt like 'one of those days' again where Saints would not be rewarded for their dominance and superiority, and had Holt converted the injury time spot kick, it would have been a wholly depressing experience for the travelling support.

As expected, Norwich played direct, but Saints' reshuffled back four coped with it admirably. Saints, as expected, had the king's share of possession and carved out 15 chances throughout the game - surely the most worrying statistic. Saints had the opportunities to kill the game, but something isn't working up front at the moment. All the gilt-edged chances that should have won the game fell to Lallana and Rodriguez, and both seem to lack composure in front of goal. Waste that many opportunities and any other excuse as to dropping points almost becomes irrelevant.

But it could have been worse. When Mark Clattenburg awarded Norwich a penalty in injury time, every Saints fan collectively sighed. The decision, seemingly awarded as a result of Holt's theatrics, could have denied Saints a point. That point could prove crucial at the end of the season and could be the difference between having £50 milllion in extra revenue and not for a club. When will referees be held to account for poor decisions?

But we can't lay all the blame at Clattenburg's door. He was deceived by Holt, sadly a player who is well known for it, and has done so previously against Saints. Holt cleverly played across Luke Shaw and went to ground, knowing full well that the ref's view would make it look like a foul. It's cheating. Let's not beat around the bush, it is commonplace in football, and Saints have culprits themselves, but when it is as calculated as Holt yesterday, it needs to be punished retrospectively.

Luckily Holt was left with the egg on his face that he deserved, Artur Boruc saving his penalty attempt and rescuing a point for Saints. It was no more than they deserved, and they will know that it should have been irrelevant. Saints fans should have been laughing off Holt's cheating as it resulted in just a consolation for the well beaten Canaries, but as it happened it could have won the game.

Time for Pochettino to take stock of his team and make sure they are fully prepared for the coming weeks. There has been talk from the players that they "don't feel like they are in a relegation battle". You are. Get used to it.

Playing well? Great. Playing pretty? Great. Not converting chances into wins? Not so great.

Keep the faith.