Points kid-knapped at St Mary's Stadium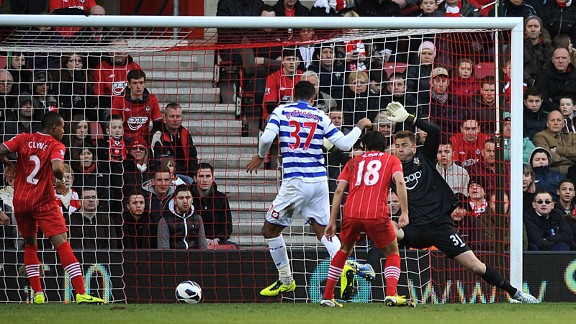 PA PhotosJay Bothroyd scores to secure the points for QPR against Southampton
It's a good job I shortly boarded a long haul flight after the final score came in from St. Mary's on Saturday as I was able to forget what a truly horrific result the 2-1 defeat to QPR was. Of course, that wasn't really the case, it just gave me more time to stew on it. Thankfully I was able to settle down to the movie Argo, which is fantastic.

- Smith: QPR still alive after Saints miracle

Argo is the tale of an audacious CIA rescue attempt of American consul workers amidst an unsettled Iran in the early 1980's. Saturday's match was an audacious QPR rescue attempt of their season amidst an unsettled Southampton defence in the early 2010's.

Saints were poor, and the last two results spell the end of the honeymoon period for MoPo (Mauricio Pochettino) as Saints looked to lack a plan B, against sides showing more battle for the points. Many Saints fans were critical of the way QPR played, but at the end of the day, they are in a fight for survival and they showed they were prepared to get down and dirty to win. Saints didn't. And make no mistake. Saints are right back in that battle.

Southampton wanted to get one over on former boss Harry Redknapp so badly that perhaps the focus was taken away from the need to win a crucial game of football. Redknapp, as all Saints fans will testify, is no tactician, but we have to hold our hands up and say that he outwitted his Argentinian opponent on Saturday.

Long balls to Loic Remy were ripping Saints apart as their lack of pace was exposed, and though Saints had most of the ball, they didn't take their opportunities. There was a worrying air of trying to 'walk the ball into the net' rather than shoot at a goalkeeper who looked extremely dodgy, and then latterly at his cold replacement.

Saints can make no excuses. It was a terrible performance and a hideous result, and now they must look over their shoulders again. Premature talk of going for Europe next season from within the club has perhaps meant the fans (myself included) have lost sight of this season's primary objective: staying in the Premier League. Looking to the future is fine, but take anything for granted in this league and you will be punished.

Too many players in red couldn't have walked off that pitch against QPR and been happy with their own performance, and now is the worst time to hit patchy form.

In conclusion, Argo was a great tale of ingenuity in times of adversity. Southampton's performance was not.

Keep the faith.