Saints hope to give Redknapp the birthday blues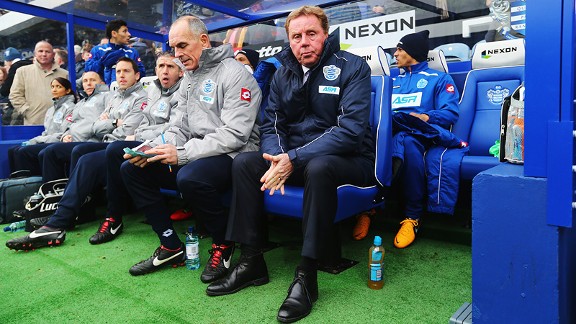 Clive Rose/Getty ImagesRedknapp is certainly not remembered as 'Harry Houdini' at Southampton
On Saturday, Saints will 'welcome' (probably not the best word) former boss Harry Redknapp back to St. Mary's. It will be the first time the QPR boss has faced Saints since a disastrous spell that saw the club relegated from the Premier League and remain stagnant in the Championship.

- Smith: Defensive improvement could be key for QPR

The Football Gods certainly know how to have a laugh. Saturday will be Redknapp's 66th birthday, and I can imagine he wouldn't be able to name a place he would less like to spend it. As coincidence would have it, it is also Saints new boss Mauricio Pochettino's 41st birthday!

Redknapp left Saints 12th in the Championship. When he had taken the reigns a year earlier, they were 18th in the Premier League, one point from safety, his mission? To ensure Saints 27 year stay in the top flight was extended. They finished 20th, two points from safety. It's safe to say you won't find many fans at St. Mary's who buy into the 'Harry Houdini' persona that the media have built for the cockney wheeler dealer (yes you are Harry, stop denying it), and he is in for a torrent of abuse when he walks out of the tunnel on Saturday.

But. Saints fans must remember that this is more than just a chance to send Redknapp packing, this is an extremely important football match. The way both teams are playing you would expect a Saints win, but relegation battles produce odd responses from people, and QPR will be looking to build on recent rocky form (they are 11th in the form table away from home).

Saints fans (myself included) might scoff at the suggestion that Redknapp is anything but a poor manager, but if one thing can't be denied, it's that players like playing for him. It might have been mission impossible for him to get his squad of mercenaries at QPR together as one, but it is likely he can achieve it. They undoubtedly have quality in their squad and in no way should this be looked upon as a foregone conclusion.

Spurs, West Brom and Man City have all struggled to draws, while Chelsea were beaten and Manchester United weren't runaway winners. They might not be picking up wins, but Swansea aside, they aren't getting rolled over with ease either.

For Saints this is another opportunity to make some ground on those above, and some distance between those below. With Reading, West Ham and Wigan all with difficult fixtures, Saints won't want to leave St. Mary's on Saturday having not taken advantage of other decent results.

Keep the Faith.