Le Tissier stars in Toon raiders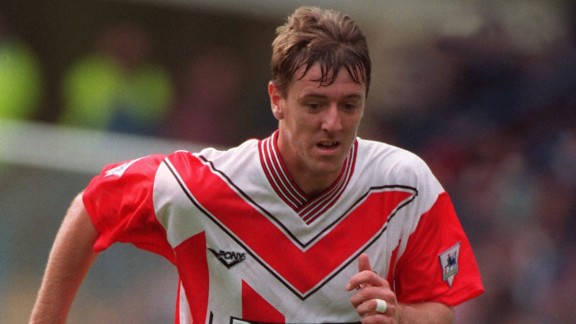 PA PhotosMatt Le Tissier was always central to Saints' success
Saints head to St. James' Park this Sunday to play their part in Newcastle United's 'French Day' and face off with former boss Alan Pardew. Over the years, the fixtures between the Toon and Saints have produced some crackers, but it occured to me that one of the best (certainly from a Saints point of view) is rapidly approaching 20 years old.

October 1993, Russia were in the midst of a constitutional crisis, China were performing nuclear tests to the shock of the world and Meatloaf would do anything for love, except that (which we presume was support Portsmouth), but life for Saints fans was taking a far more serious turn.

Southampton were 21st in the Premier League, with just five points from their first 11 games. Only new whipping boys Swindon Town were keeping Saints from being rock bottom and manager Ian Branfoot (unpopular at the best of times) had decided to drop talismanic striker Matthew Le Tissier for recent games.

Newcastle made the trip to the Dell, to play out Super Sunday in front of the television cameras. No one held much hope for Saints, and the fans were in a despondent place, wondering if the annual punditry predictions that Saints would lose their place in the top flight were about to come true.

Whether it was down to supporter pressure or an epiphany on his part, Ian Branfoot dropped Paul Moody and recalled Le Tissier for the game.

What unfolded was proof that the age old adage that 'you should always pick your best players' is undoubtedly true. This wasn't a Premier League game between 22 players, it was the 'Matthew Le Tissier Show'.

What happened in the first hour of the game, I'm sure nobody recalls, but in the 62nd minute Le Tissier opened the scoring in what can only be described as 'being back with a bang'. Iain Dowie won the ball in the air and headed it back towards Le Tissier, it was badly timed and fell behind the mercurial forward, for most other players this was the break up of play, for Le Tissier it was lunch.

He flicked it with his heel into his own path, took a volleyed touch past the approaching Barry Venison, Martin Tyler's commentary was perfect ''Le Tissier...'' the ball is flicked over Keith Scott's head ''...here he is...'' Le Tissier volleys the ball just as it is about to hit the ground into the bottom corner of Mike Hooper's net ''...Matthew Le Tissier. Is back in the grand manor''.

The camera panned to the Saints dugout. Ian Branfoot couldn't have looked more uncomfortable and didn't know where to look. But this was just the hors d'oeuvre.

Andy Cole equalised ten minutes later, but I would be amazed if you can find anyone who can describe the goal, this game was all about Le Tissier and it was he who would keep the headlines, waiting until the very last minute.

Neil Maddison touched it to him, he controlled it with his knee and sent a dipping volley over Hooper from 20 yards. Two better goals to win a game you are unlikely to find.

Everyone at Saints was used to seeing Le Tissier produce magic, arguably they weren't even his best ever goals, though they are up there, but it was the timing and the symbolism of them that has seen them so prominent in Saints and Premier League history that Cole's equaliser, sandwiched between them has faded from memory over time. I'm sure he doesn't mind, he has plenty of others!

Saints continued to struggle after this game, though form did improve, and eventually Branfoot was replaced by Alan Ball. If ever there was a manager to nurture and appreciate the grace and skill of Le Tissier and it was the cusp of one of the most exciting periods as a Saints fan. Saints ended the season in 18th and retained their Premier League status, Newcastle finished 3rd and were about to go on quite a journey themselves! Russia pulled through, China continued defy Bill Clinton, Meatloaf was eventually toppled by Mr. Blobby and everyone lived happily ever after.

Keep the Faith.