Future echoes: Southampton youth making their mark
While things are starting to look rosy in the first-team arena at Saints, there has been a timely reminder that the club's youth academy is still doing its fine work behind the scenes this week, and it came in the proverbial 'threes'.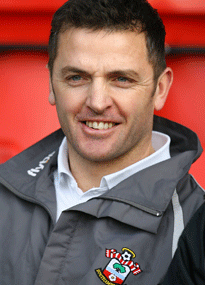 PA PhotosSouthampton legend Jason Dodd is now leading the club's Under-21 side
Firstly, the club's Under-21 side secured their first victory of the Premier League Under-21 Elite Group, with Alberto Seidi scoring the only the goal against West Ham. That was followed by the club's Under-18 side beating their Manchester United counterparts 4-2 in a thrilling encounter at Staplewood to take them top of the Under-18 Elite Group table, leapfrogging their opponents.

The Under-18 side, led by Saints legend Jason Dodd look extremely comfortable amongst their 'elite' challengers and it is clear that Dodd is imposing the same work ethic on the youngsters as Mauricio Pochettino is on the first team. "You don't want to look at yourself in the mirror and say, 'I could have done a bit more' because we won't be having that," Dodd said.

Playing in the Under-18 victory was midfielder Dom Gape and forward Ryan Seager, and their week finished on an even higher note as they both signed their first professional contracts with the club (believed to be five-year deals). Seager's name in particular has been cropping up fairly regularly among the Saints support, and having scored his 16th goal of the season against United, it looks like he will now be pushing to follow in the footsteps of Le Tissier, Bridge, Walcott, Bale, Chamberlain and Shaw...

To round off the week for the academy sides, American goalkeeper Cody Cropper was called into the USA Under-20 squad, who are looking to secure a place at the Under-20 World Cup over the coming weeks.

Cropper joins an ever-growing list of Saints academy players now representing their countries at various levels. In the current climate of extortionate transfer fees and potential financial fair play rules to contend with, it is with some confidence that Saints can look at their conveyor belt of talent to maintain a Premier League future.

It would be great to see the Under-18s go on and win their elite group, but their footballing education is far more important than their medal haul. As Mauricio Pochettino said in his time at Espanyol: "We aren't interested in our youth teams winning games, we are interested in them progressing to the fist team."

Keep the faith.