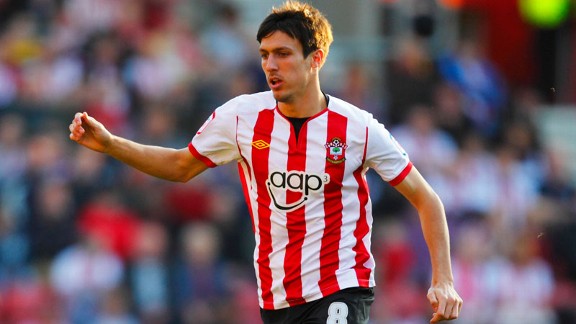 EmpicsThere is an argument to be made for Jack Cork's inclusion in the next England squad.
Every time Roy Hodgson has announced his England squads in recent months, Saints fans have breathed a collective sigh as the Englishman with the (equal with Theo Walcott) most goals in the Premier League is consistently overlooked. No one can quite understand why Rickie Lambert isn't getting a chance, even for a friendly where half the selected strikers pull out.

But while the focus from a Saints point of view is seemingly on the talismanic frontman, several other English Saints players are making themselves heard with their consistent and dominant performances.

Jason Puncheon, Adam Lallana, Nathaniel Clyne and Luke Shaw (surely the natural replacement of Ashley Cole?) have all excelled this season and a case could be made for them all to make their full international debuts in the near future.

But the man who for me should without doubt be given an opportunity soon is central midfielder Jack Cork.

The 23-year-old's return to the Saints first team after injury coincided with a resurgence in form - and that is no coincidence. Forming a formidable partnership in the centre of the park with French team-mate Morgan Schneiderlin, the pair have been making some big name international footballers look decidedly ordinary.

Most recently England regular Gareth Barry and 'world class' Yaya Toure, both having games they will like to forget, were given the runaround by the Saints duo as Cork's energetic and immaculate display meant that neither could get a grip on the game.

It was England player Michael Carrick's turn at Old Trafford a couple of weeks ago. Carrick has been getting rave reviews all season, but Saints second half performance, coupled with another fantastic showing from Cork and Schneiderlin, made Carrick anonymous and nearly geve the Saints a more deserving result.

England player Leon Osman, and veteran Phil Neville were overrun by Cork's combatant display at St. Mary's prior to that and current England midfielders are becoming a game-by-game scalp for the Londoner.

Saints fans will wait with baited breath for the next England squad to be picked, after Gary Neville, fast becoming the most respected pundit in English football and of course a member of Hodgson's coaching staff, showed his appreciation as the Saints midfield dismantled the champions on Saturday evening.

Cork came through the ranks at Chelsea, and was loaned out to a succesion of Championship clubs (Saints included) to make his mark with first team football a pipe dream at Stamford Bridge. Wouldn't it be nice for the guy who did it the hard way to get some recognition at international level? He won't let you down Roy.

Keep the Faith.