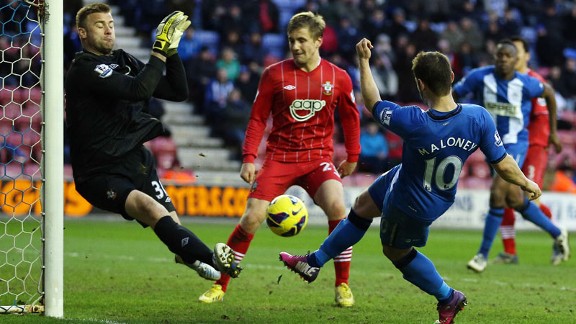 APShaun Maloney equalises late on for Wigan
Another game, another dominant performance, more dropped points. That is how most Saints fans will feel after yesterday's 2-2 draw with Wigan Athletic. But it could have been worse.

It was another lacklustre first half performance from Saints and, despite having most of the ball, they never looked like making their pressure count. The cacophony of travelling fans watched on as Saints battled a counter attacking Wigan side and an easily fooled referee.

- Brown: Tables turn as Latics pinch a point
- Maloney denies Pochettino first win

Wigan employ gamesmanship as part of their plan, and it works. The crowd and players alike are in perfect tune. Every tackle by a Saints player accompanied a Wigan player going to ground and all ten of his teammates and the home support crying foul in unison. The referee yesterday gave it every time, even booking Schneiderlin for a nothing challenge. I don't think I've ever seen a player go down with no contact so many times in one game as Shaun Maloney did yesterday, but he was earning Wigan plenty of set pieces and, be it a combination of their prowess at converting them or Saints' inability to defend them, it was their only real point of threat.

So it came as no surprise that it was a set piece that gave the home side the lead; a perfectly delivered corner, Yoshida gambled and missed and it was a great headed finish from the abandoned Gary Caldwell. Much like at Old Trafford, Saints came out in the second half looking like a different team, and started to completely overrun Wigan as their quality started to show through. The intensity level was turned up from the visitors and suddenly every second ball was being won by a man in red. It was just desserts for Saints when Rickie Lambert bravely attacked the ball with Al Habsi looming and it was the Englishman who beat the Omani to the ball and levelled the scores.

With Lallana now on the pitch for Saints, every attack looked like it was going to end in a goal, and Wigan's back four struggled to cope with the marauding of the winger, Rodriguez and Luke Shaw.

If Saints' aggressive intent warranted their equaliser, their good football was rewarded with the second: breaking from a Wigan corner, Ward-Prowse brought the ball away and set Jay Rodriguez off up the left; he beat McManaman and laid the ball off into the centre for Morgan Schneiderlin who had timed his full length of the pitch run to perfection to tap home. That should have been three points for Mauricio Pochettino, and it would have been thoroughly deserved, but Wigan had one more set piece to come, and it stole them a point. Of course it would be chief tormenter Shaun Maloney (having seemingly changed his ice skates for football boots) who prodded home the equaliser at the death.

Disappointing for Saints, especially given the other results involving teams at the bottom, but again a second half performance that deserved so much more. There is certainly reason to be encouraged, with Jay Rodriguez having his best game in a Saints shirt, Lallana looking back in the groove, Boruc outstanding again and our central midfield pair looking like one of the best in the league. We are getting better, but the performances need to now be converted into wins.

Keep the Faith.