No break for Saints' internationals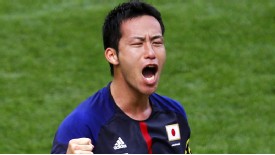 GettyImagesMaya Yoshida: Full 90 minutes as Japan
Being back in the Premier League isn't all positive, as just three games into the season we've been stopped in our tracks by an international break. Despite accumulating zero points so far, it feels like this is the worst possible time for Saints to have a "break" given the encouraging performances so far.

It certainly isn't a break for some of the Saints players though, who with Premier League football are already starting to get some of the recognition they deserve.

For a couple of Saints' new boys it was the first chance for fans to see them play, having signed after the deadline to feature in the game against Manchester United. Maya Yoshida kicked things off on Thursday playing the full 90 minutes as Japan beat the United Arab Emirates 1-0 in a friendly. Then last night, Saints fans would have waited eagerly for an hour of the Columbia v Uruguay match to see the introduction of Gaston Ramirez. The playmaker was powerless to stop the rot though as Columbia ran away with a 4-0 victory.

It was a proud day on Friday for young star James Ward-Prowse, who must feel like there is no stopping him at the moment. Fresh off starting two of our three Premier League fixtures at just 17, Ward-Prowse was selected to start for England U19's against Germany.

Sadly the Young Lions lost 3-1 to their German opponents with Ward-Prowse playing 75 minutes, no doubt the first of many international honours for the midfielder.

Steven Davis captained Northern Ireland and played the whole game yesterday (his 50th start for his country) in a 2-0 defeat to Russia in Moscow.

All eyes from a Saints perspective will fall on Hampden Park and the Levy Mwanawasa Stadium on Saturday as Danny Fox and Emmanuel Mayuka will be hoping to represent Scotland and Zambia respectively.

Scotland faces Serbia in a World Cup Qualifier while African Cup of Nations holders Zambia take on Uganda in a 2013 qualifier.

The only thing missing it seems is some reward for Rickie Lambert (the top English goalscoring striker in the Premier League) and Adam Lallana. I am confident that if they keep up their form so far this season, Roy Hodgson will have no choice but to give them a chance for England.