Transfer speculation: The case for the defence...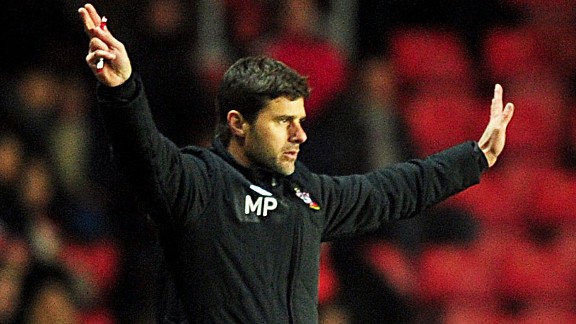 PA PhotosMauricio Pochettino is set to face a stern test against United
So, Saints have jetted off to Barcelona for a warm weather training break and team bonding session with the next game still six days away and the press have jetted off to speculation land.

Since Mauricio Pochettino has taken over as manager the English press have pretty much linked the club to moves for anyone who has ever played with or for the Argentinian.

Over the past few days there has been talk of Joan Verdu, Phillipe Coutinho, Lucas Biglia and Samuele Longo, amongst others, making the move to the South Coast as well as the perhaps most ridiculous, but most exciting one, Jaun Roman Riquelme.

As much as I would like to see a legend like Riquelme turn out for Saints, it looks pretty unlikely, given that he is 34-years-old and effectively retired in the summer. As for the others, well Coutinho looks expensive for a player that isn't perhaps quite there yet, Biglia could be a good signing to give competition to Cork and Schneiderlin, Longo is another striker, something I am pretty confident we don't need. That leaves Verdu. The one I would really like to see us sign. At 29-years-old he is ready now and would likely cost half the price of Coutinho, given that his Espanyol contract runs out in the summer.

While the press make all this speculation though, the manager himself is telling the local Barcelona-based media that he won't be going back to Espanyol for their players.

While fans will always get excited being linked to such players, when I read the list something jumps out at me that I can't quite feel comfortable with. None of them are defenders. Ok, Biglia is a defensive minded player but won't play in the back four. Does this mean Southampton are content with the defensive options now they have Forren? It is still the weakest area and the backup options don't look good enough for me.

Call me boring, but I would like to see us linked with another centre-half and perhaps a full-back. They can be from Espanyol or Argentinian or anywhere you like, as long as they know how to make tackles, track forwards and break up play. With all due respect to them Danny Fox and Frazer Richardson don't fill me with too much confidence should Shaw or Clyne pick up an injury, and I don't want to see Cork wasted at right back again.

While Jos Hooiveld has improved immensely in Jose Fonte's absence, he perhaps lacks the culture on the ball fans would like, and it might be worth having another, possibly even an old hand with Premier League experience to bring off the bench.

Anyway, now the departure of Adkins is beginning to be overshadowed by the intrigue of what is to come under the new boss, I think it is safe to say that the days of Saints being quiet in the transfer windows are long gone.

Keep the Faith.